Behind Jeff Sessions's decision to abandon asylum protections for victims of domestic violence is the story of "A.B." The Salvadoran woman, identified in court documents by her initials, endured more than a decade of physical abuse by her ex-husband, who she says also raped her and repeatedly threatened her life. In an effort to escape the abuse, she moved to a town two hours away, filed numerous restraining orders that went unenforced, and sought a divorce—none of which deterred him. He followed her and the violence escalated, according to her lawyers. In one incident, he brought along his brother, a police officer, and threatened to kill her. To protect her life, A.B. eventually made the difficult decision to leave her three children in El Salvador and claim asylum in the United States, hoping to bring them over later.
Ana Gasteyer Satirizes the Girl Boss in 'American Auto'
After arriving in the U.S., A.B. was permitted to seek asylum, but her case has been tied up in the courts for more than four years. In 2016, the Immigration Board of Appeals ruled in her favor, allowing A.B. the right to asylum in the United States as a victim of domestic violence. On Monday, Sessions overturned the decision, writing that most claims "pertaining to domestic violence or gang violence perpetrated by non-governmental actors will not qualify for asylum."
"The mere fact that a country may have problems effectively policing certain crimes—such as domestic violence or gang violence—or that certain populations are more likely to be victims of crime, cannot itself establish an asylum claim," he wrote.
Immigration advocates worry that the decision undoes decades of progress on women's rights and human rights, and worry about what it means for the future. "Jeff Sessions has basically taken the Department of Justice's role and taken away its traditional independence and instead usurped it to enact White House policy and his own personal racist agenda," Camille Mackler, Director of Immigration Legal Policy at the New York Immigration Coalition, told Jezebel.
G/O Media may get a commission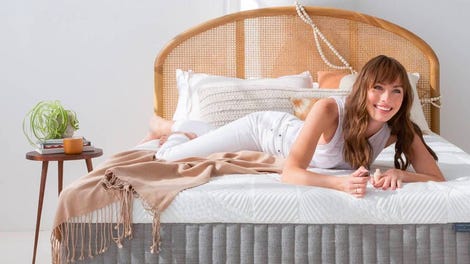 Sleep Sale
Sleep Sale - Brentwood Home
What that has meant so far is that the Trump administration has been systematically dismantling the asylum system at every stage, making it harder for people to cross the border, harder to file for asylum once they're in the country, and harder to get access to a court hearing. Now, with Monday's announcement, Sessions is looking for ways to restrict the enforcement of very legal standards that protect refugees.
Sessions can't change the laws on asylum, but he can control how immigration judges apply those laws. The Justice Department runs the immigration court system, which is independent of the civil and criminal justice system that imbues Sessions with hiring and firing power over lower court judges. If immigration judges don't abide by Sessions's directives, or adhere to his new, prohibitive quotas, they risk losing their jobs.
Asylum can be granted on the basis of race, religion, nationality, membership in a particular social group, or political opinion, provided the individual can prove their government will not protect them. In 2014, the Obama administration recognized domestic violence as a basis for asylum in the United States—a landmark decision by the Immigration Board of Appeals. The case granted asylum to Guatemalan woman Aminta Cifuentes, whose abusive husband had burned her with acid and hit her so hard during pregnancy that she went into premature labor. The abuse had been so severe that the baby was born with bruises. The decision set a precedent to protect women trapped in abusive relationships as a social class seeking asylum. It was under this precedent that the board granted A.B. asylum protection, which Sessions has now revoked.
Mackler has "no doubt" that immigration lawyers will challenge the Sessions decision in federal courts. "I think the prevailing belief at this point is that the federal courts will not allow this decision to stand as written," she said. "Like everything else we see coming out of this administration, when it's tied to their racist and xenophobic views, it's badly written, badly reasoned, and we've seen over and over again that courts of law won't stand for that."
However, in the meantime, women like A.B. are in limbo. The decision shows "a disdain, in particular, for women and children coming from Central America," said Blaine Bookey, an attorney who represents A.B. and serves as the Co-Legal Director at the UC Hastings Center for Gender & Refugee Studies. A.B.'s case is, unfortunately, not unique. "We see that in a lot of cases," Bookey said. According to a 2017 fact sheet on sexual and gender based violence and migration by the Women's Refugee Commission, Latin America Working Group, and Kids in Need of Defense, "Sexual and gender-based violence are major drivers of forced migration from Guatemala, El Salvador, and Honduras, especially for vulnerable groups including women, children, and LGBTI persons."
Public Radio International recently reported on the uncertain fate of a Honduran woman identified as Naomi, who fled Honduras to escape a violent boyfriend who had beaten her, sexually assaulted her, and burned their four-year-old son with a pot of boiling oil. She sought asylum in the U.S., hoping to bring her son after being granted asylum. But she has waited for five years to receive an immigration hearing on her application and with Sessions's announcement, she does not know what will happen to her, PRI reports.
The government does not consistently track asylum claims made based on gender-based persecution, but immigration advocates expect this law will hurt tens of thousands of women like Naomi and A.B. The decision may pave the way for more restrictions on women refugees, too. "The disdain for women's claims and the rejection of the social group and the underlying theories itself could have an impact on women claiming other forms of gender-based persecutions as well," said Bookey.

"We're going to continue to pursue her case," she said. "We're not sure if we're going to be able to appeal it directly right now, but we will pursue her case before the immigration court and all available appeals depending on what happens in her case."
That litigation process could take years. In the meantime, Jeff Sessions has implemented a policy that will result in suffering, violence, and even death for women who, until Monday, could have hoped to find safe harbor in America.