When it was his turn to question Attorney General Jeff Sessions during Tuesday's Senate Intelligence Committee hearing, Sen. Ron Wyden (D-Oregon) took a heated approach.
"I believe the American people have had it with stonewalling," Wyden said forcefully to Sessions. Throughout the hearing, the Attorney General repeatedly blamed his memory and the hypothetical possibility of executive privilege at some point being invoked in response to certain questions. During the exchange with Sen. Wyden, Sessions careened back and forth between the slightly disoriented and giggly persona we got to know so well at his confirmation hearing and sharp, self-righteous anger.
"Mr. Comey said that your continued engagement with the Russia investigation was, quote, 'problematic,' and he could not discuss it in public," Wyden noted.
"Were you aware of any concerns at the FBI or elsewhere in government about your contacts with the Russians, or any other matters relevant to whether you should step aside from the Russia investigation?"
"Senator Wyden, I am not stonewalling," Sessions replied.
"I am following the historic policies of the Department of Justice. You don't walk into any hearing or committee meeting and reveal confidential communications with the President of the United States who's entitled to receive confidential communications and your best judgment about a host of issues, and after be accused of stonewalling, so I would push back on that. Secondly, Mr. Comey, perhaps he didn't know, but I basically recused myself the first day I got into the office, because I never accessed files, I never learned the names of investigators, I never met with them, I never asked for documentation. The documentation, what little I received, was mostly already in the media, and was presented by the senior ethics professional responsibility attorney in the department. And I made the honest and proper decision to recuse myself, as I told Senator Feinstein and the members of the committee when they confirmed me."
G/O Media may get a commission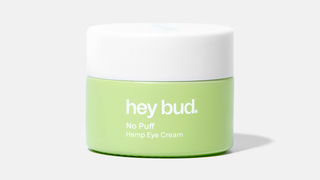 15% off
Hey Bud - No Puff Hemp Eye Cream
"General Sessions, respectfully, you are not answering the question," Wyden replied, jabbing his finger at Sessions.

"Well, what is the question?" Sessions asked, chuckling.
"The question is, Mr. Comey said that there were matters with respect to the recusal that were problematic and he couldn't talk about them. What are they?"
"I—why don't you tell me? There are none Senator Wyden, there are none!" Sessions said, suddenly yelling. "I can tell you that for absolute certainty. This is a secret innuendo being leaked out there about me, and I don't appreciate it, and I've tried to give my best and truthful answers to any committee I've appeared before, and it's really a—people are suggesting, through innuendo, that I have been not honest about matters and I've tried to be honest."
"My time is short, you've made your point, that you think Mr. Comey is engaging in innuendo—" Wyden began.
"Well, Senator Wyden, he did not say that—did he say—"
"He said it was problematic, and I asked you what was problematic about it!"
"Well, uh, the [laughs], some of that leaked out of the committee that he said in closed sessions," Sessions said, answering an entirely different question that was not asked.
Wyden then asked why Sessions signed the letter recommending the firing of James Comey, given that Trump had admitted to firing Comey because of the Russia investigation? Didn't that violate his recusal?
"It did not violate my recusal. It did not violate my recusal," Sessions rebutted, throwing in a nonsensical explanation for good measure: "That would be the answer to that, and the letter that I signed represented my views that had been formulated for some time."
Watch the entire exchange above.