After news broke that Jeff Lewis' surrogate is suing Bravo for filming and broadcasting her delivery without consent, the Flipping Out star ran back to People to provide more of his side of the story.

This all began last Wednesday, when Variety reported that Alexandra Trent filed a lawsuit claiming that the network "filmed her vagina without permission, and that Lewis and [his partner Gage Edward] humiliated her by making 'disgusting' comments on the show." One of those comments was this, by Lewis:
"If I was a surrogate, and I had known there was going to be an audience, I probably would have waxed. And that was the shocking part for Gage. I don't think Gage had ever seen a vagina, let alone one that big."
In response to Trent's claims that "camera operators secretly filmed from behind a curtain, despite telling her they wouldn't," Lewis told People:
"Flipping Out is not a hidden camera show. There were moments where there were two, three, four cameras... So how do you now say you didn't know you were being filmed? It's unbelievable... Shame on her for mudding such a beautiful experience. I personally believe she will have to answer to God one day for what she's done. And if I were her, I'd start drafting my apology now."
G/O Media may get a commission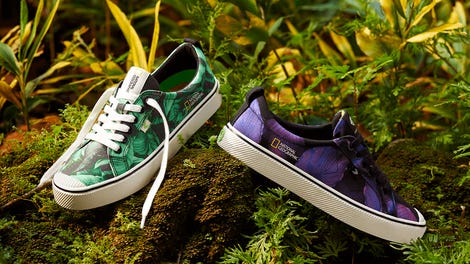 New New New
Cariuma + National Geographic
Lewis' version of events could be taken with a grain of salt, however, because he also claimed to have "not remembered" making the comment about not waxing, despite video of those remarks airing on national television. (He reportedly sent flowers and an apology letter to Trent.)
Lewis also told People that he and his partner were "devastated" by the lawsuit, adding:
"And this is where I'm so upset. Because, on one hand, I don't want to tarnish this most amazing experience of my life. We couldn't be more grateful to this woman for birthing our child. We are indebted to her… we are so completely grateful to her, because without her, we wouldn't have Monroe. But on the other hand, these are fabricated claims and are completely bogus and without merit. This smells to me like a financial shakedown."
Fortunately, the clips of Trent's birth—which were still up at the time the lawsuit was made public last week—appear to have been removed from Bravo's site.