The purses are intentionally garish: famous paintings stretched across leather, the names of the old masters who produced them stamped across the bag, "Titian" or "Van Gogh" loudly announce their authorship, scrawled over the images are Louis Vuitton's iconic monogram and spaced in between the signature of the artist Jeff Koons. It's no surprise that Koons's collaboration with Louis Vuitton would be loud and garish, relying—has he always has—on the intersection of brand identity and the history of art. For better or for worse, pastiche and appropriation are what has made Koons an enduring fixture and his collaboration with Vuitton is standard Koons.
The Vuitton bags are, according to a fawning press release, called Masters and they are a continuation of Koons's Gazing Ball series. In that series, Koons attached a blue gazing ball to reproductions of old master paintings. It was, according to the gallery, "dialogue" with the past and (inevitably) a direct challenge to the authority of authorship. Ostensibly reproducing a Fragonard or a Leonardo painting is supposed to be a similarly shocking and anti-canonical gesture. I suppose that the artists' names, mixed with LV's monogram, are supposed to be conflated with Vuitton—see, artists and brands are the same. This is supposed to be interesting and not simply an idea that's been repeated for nearly 100 years.

"I think we're going to get some pushback," Michael Burke, chief executive of Vuitton told the New York Times about the line. "People are going to be upset about the sacred entering the realm of the profane. But we like to do things that can be perceived as politically incorrect. If we are getting flak, we think we are doing something right." Indeed, radical gestures always come in the form of keychains that start at $585 and a backpack featuring Peter Paul Rubens at $3,200.
G/O Media may get a commission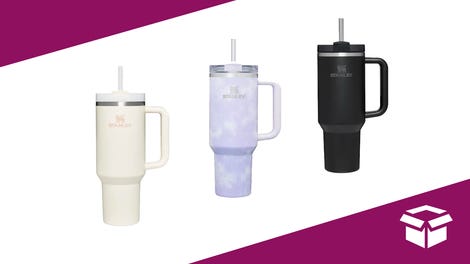 Up to 45% off
Stanley Cup Sale
Here is Koons in the Times write-up, an artist who has always been gleefully unaware settling into a persona that's become, it seems, real:
This is part of his mission statement as an artist: He wants to eradicate the elitism of the art world. He says he doesn't see any distinction between the bags and his art because his definition of art is something that "connects in a profound way to the universal, and when it is about focusing on interests or information, it automatically achieves that." And these bags, which are all about paintings that have deep meaning for Mr. Koons qualify (he said he visited Fragonard's "Girl With a Dog," another painting in the Vuitton collection, "at least once a year").
So here is a group of men congratulating themselves on refusing to be politically correct and eradicating elitism because they pastiched some old masters, something Important Artists have been doing for over a hundred years, and made the status object of a painting into a slightly less statusy object. Koons's bags won't be available online or in every store. Importantly, however, Alicia Vikander will be the "face" of the collection. According to Burke, Vikander has a "Mona Lisa-ish quality."
As a side note, yesterday, I read a review of the new Damien Hirst exhibition. The reviewer called Hirst a "genius." It seems we will never escape the endless loop of the same boring men doing the same boring things all while congratulating themselves for their subversiveness.