Being a huge success in life doesn't always mean you'll make a good dad, and father-to-be Jay-Z isn't taking anything for granted. He said last night that he's been thinking—and maybe even over-thinking—about whether or not he's got what it takes.
It makes me a little paranoid because no matter what, I don't think any person, or any male, goes into a relationship thinking that they're going to leave or wouldn't be there. I think the circumstances a lot of times dictates things, right?
But no matter what happens he isn't worried that he'll be like his father, who left when Jay-Z was young: "I'm just a different kind of guy. I'm a highly principled person." It's refreshingly sweet to know he worries about these things and that he plans to be around for Beyoncé and the BeyBey. Oh, and he's already showing signs of making smart parental decisions. When asked if the baby's diapers would be made of gold, he replied jokingly, "No. Leather!" That's very practical since leather is so much more lightweight and breathable than gold. [People]
---
Rihanna taped an appearance on The Ellen DeGeneres Show today in which she talked about being single and had this to say about how she likes her men:
I can't have guys that are intimidated by me. I like men that are more aggressive ... I like them to be sure of themselves and know that you're the man. I'm the lady and the only way for us to make this work is for us to play our role. You know, I can't really be the man for you—I don't want to have to be—I'm the man at work all the time.
G/O Media may get a commission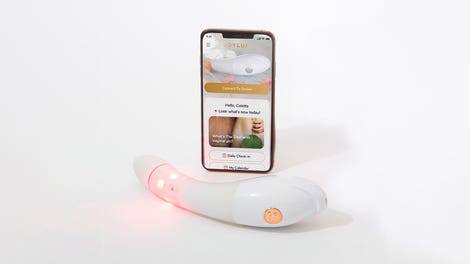 $50 Off
Joylux vFit Gold Device
Here, you can borrow my handy ten-foot-pole because I am definitely not using it to touch this quote. [Radar]
---
The 30-year-old case of Natalie Wood's death has just been reopened, which has led a lot of suspicious eyes to shift over in the direction of her husband at the time, actor Robert Wagner. But when asked, police said Wagner is not a suspect. Though he is, according to one source, "a person of interest" and the reason for reopening the investigation. Hmm.
Christopher Walken was also onboard the boat that Wood fell off of, but police say he is not a suspect either. Well, at least this means we can rest assured that while his face may be exactly what you see when you picture a murderer in your head, Walken is not an actual murderer. [TMZ]
---
Snooki is not the first person most of us would take beauty advice from, and last night on Conan she proved exactly why we should always take her tips with a grain of salt, er, kitty litter. When asked by Conan if it was acceptable to use cat litter as an exfoliant, the Snookster said this:
Yeah, well, I definitely, um, like to Google a lot. And I don't like to spend a lot of money on, like, spa treatments, just because I'm, like, a cheapo. So I Googled what else I could use that's, like, not so expensive, and it was… cat litter.
Conan smartly followed up, "Isn't cat litter, like, a strong chemical?" But Snooki was unfazed (why would she be since she probably slathers herself in toxic orange dye daily) and reassured everyone with, "I haven't broke out at all yet." Let's hope this does not cause a run on kitty litter aisles this weekend. [The Gloss]
---