The Grammy nominations were announced last night via an ancient Illuminati ritual a concert. Jay Z leads the pack with nine nominations, including those for Best Rap Song and Best Rap Album. Kendrick Lamar, Justin Timberlake, Daft Punk, Lorde and Taylor Swift (TAY TAY SHINES, Y'ALL!) also really cleaned up:
Via Huffington Post:
Album of the Year nominees included "The Blessed Unrest" by Sara Bareilles, "Random Access Memories" by Daft Punk, "Good Kid, M.A.A.D City" by Kendrick Lamar, "The Heist" by Macklemore & Ryan Lewis and "Red" by Taylor Swift. Kanye West's "Yeezus," Bruno Mars' "Unorthodox Jukebox" and Jay Z's "Magna Carta Holy Grail" were among big albums that failed to scoreAlbum of the Year nods, as had been expected. Song of the Year nominees included Pink for "Just Give Me A Reason," Bruno Mars for "Locked Out Of Heaven," Katy Perry for "Roar," Lorde for "Royals" and Macklemore & Ryan Lewis for "Same Love."
Nice! Congratulations to all of them! As I draw ever closer to the Great Darkening Time, aka my 40's, I know who less and less of these people are. Perusing the list, I see Duran Duran and Culture Club were tragically overlooked for albums they probably did not make this year, so I'll just let you all check out the full list of nominees here and make up your own mind about who was blasphemously left out of the running.
A concert held to celebrate the anointing of the high holy leader of the Knights Templar nominees was also a thing that happened last night:
Hosted by LL Cool J, "The Grammy Nominations Concert Live!" aimed to drive public attention to an often-baffling list of nominations that include an album of the year nomination forSara Bareilles' tepid piano pop, Led Zeppelin's nomination for best rock performance andEd Sheeran's spot in the best new artist category — despite the fact his tune "The A Team" was nominated previously for song of the year.
OK, I basically have zero clue what any of that meant. However, if you're interested in learning more about this Grammy concert last night, The LA Times has written more about it than Charles Dickens wrote about poverty in London, except their depiction of the concert is a lot bleaker.
---
Uh-oh. Kirstie Alley and Leah Remini are in a fight, you guise. Appearing on Howard Stern's show, Alley called Remini a "bigot" for comments made following Remini's departure from the Church of Scientology, which the Cheers star has been a member of since the 1970's.
"The thing about me is, I don't care what religion you are. If someone is attacking your religion, I will have your back, and I will defend you. I think that is the most repulsive thing a person can do, attack another person's faith," theKirstiestar, 62, told Stern. "Because a faith is what you look to to have hope, and is what you look to to help other people. I just think it's really wrong."
G/O Media may get a commission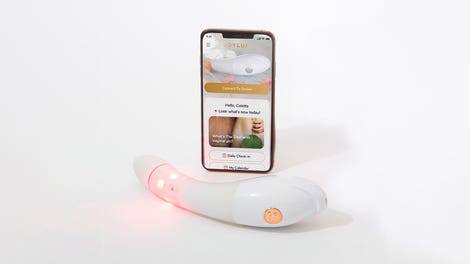 $50 Off
Joylux vFit Gold Device
You can listen to the full interview here. For her part, Remini wishes to take the high road, which means showing up at Alley's mother's house in her bathrobe, throwing buckets of fish guts at her front door and screaming until the cops show up. Oh wait—am I the only one that does this?
---
Paris Hilton's brother Baron says Linsday Lohan is the one responsible for getting him beat up this week. Let's face it; that's not the wildest LiLo accusation you've heard. [Blabberazzi]
There is definitely going to be a Fast & Furious 7, in case the tragic loss of their star had you worried about that. [TMZ]
There was a huge fight at the Mob Wives premier. Alright. [Examiner]
OMG CELEBRITIES WALK IN THE RAIN YOU GUISE. [Just Jared]
The original movie Gretl Von Trapp aka Kim Kareth says your favorite Twitter event of 2013 aka the Sound of Music Live was "painful" to watch. What, Kim, even Vampire Bill singing So Long, Farewell, under all the Swastikas? [In Touch]
Sigh. [Hollywood Life]
It looks like you will now once again be able to refer to Jennifer Lopez by her given name, which I believe is legally 'The Almighty Lady Of The Foresaken Eyelash Implants.' [Fox News]
Sorry everyone for the late DirtBag. The cold wave/frost that hit the South knocked out some of our very meager infrastructure; namely our Internet. Have you ever called and yelled-cried at Time Warner? Yeah, they put you on this 'list,' see....
Image Via Getty Images