Goddamn GODDAMN! Not to be one-upped by the Royal Family's announcement of baby number two, sources say Jay Z and Beyoncé have announced that they too are expecting. Get ready for baby number Illumina-two!
Apparently the announcement was made mid-performance:
The shocking announcement was made by Jay-Z during a performance of his song titled "Beach Is Better." He reportedly changed up the lyrics, rapping "Cause' she pregnant with another one" during the couple's final performance of their highly successful European leg of the "On the Run Tour" in Paris, France.
Okay, so I know that's really subtle for those two and not at all like that one time when Bey revealed the pregnancy on national television in one of the most epic pregnancy announcements OF ALL TAAM. But guys if this is all legit, I think it's very cute that Bey let Jay drop the bomb this time—I wonder if he had to ask. Let the baby bump conspiracy truther flaggers begin! [Naturally Moi]
---
G/O Media may get a commission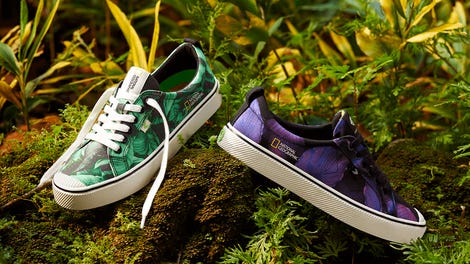 New New New
Cariuma + National Geographic
Lauren Morelli, one of the head writers for Orange is the New Black has filed for divorce from her husband, after realizing through writing for the show that she's gay. The divorce was amicable. Also, MORELLI IS DATING SAMIRA WILEY AND I LOVE IT. *CRIES* Also, WHY IS EVERYONE SO BEAUTIFUL?!?! *CONTINUES CRYING* [TMZ]
---
Sway asked Chris Brown his thoughts on Ray Rice because apparently we're all just so goddamn interested in what his take on the matter is. Brown proceeded to talk about how important it was to talk to a therapist and how it was all about controlling your anger. Uhhhhhh okay. But the most important part of this interview is the squeaking sound emitting from Chris Brown's awful leather jacket. [MTV]
And apparently Chris Brown and Ariana Grande did a song/video together? Okay. Sorry for the double Brown updates. [Hollywood Life]
Minnesota Vikings running back Adrian Peterson was booked and released on $15,000 bond following an indictment for child abuse. [TMZ]
Nicole Kidman's father Dr. Antony Kidman passed away after falling in a hotel in Singapore. Keith Urban is at her side. [US Mag]
John Mayer is apparently trying to woo Jennifer Lawrence away from Chris Martin. [Hollywood Life]
Gary Busey won Celebrity Big Brother. Will someone tell me what this means? [Contact Music]
22-year-old Cara Delevingne is planning to write an autobiography about her childhood. [Contact Music]
Oh nothing, just Anne Hathaway and Robert De Niro doing Tai Chi in a park. [Just Jared]
IT'S SATURDAY!

Lead image via Getty. Additional image via Lauren Morelli's Instagram.