Jay Pharoah appeared on Hot 97's Ebro in the Morning to discuss his stint on Saturday Night Live, from which he was fired last year. In his telling, there were many reasons—he refused to do skits that involved him wearing a dress, for one, and was generally unwilling to go along with everything the writers threw his way. Plus, he says, the show generally gave up on writing skits about Obama, Pharoah's marquee impression.
Ana Gasteyer Satirizes the Girl Boss in 'American Auto'
But he thinks he was on the chopping block long before that—specifically, in 2013, when he spoke up about SNL's lack of black women as cast members or as writers. He told Ebro in the Morning:
When the hiring of the black women happened—[Sasheer Zamata], Leslie [Jones], LaKendra Tookes—It was Lakendra Tookes and Leslie both were hired as writers, and it was Sasheer on the show. And I was at the audition and, me speaking up, they were ready to get rid of me 2013, September, when I spoke up. When I said what I said, and it got on the Grio, and it went viral, I almost freaking lost my job.
Peter Rosenberg asked Pharoah if he was "the catalyst behind that whole conversation?"
"Yes," he responds. "I'm the reason it happened."
The viral Grio piece in question was an interview with Pharoah published in September 2013, with the headline "SNL's Jay Pharoah on a mission to bring a black woman on cast: 'They need to pay attention.'" In that piece, he brought up Darmirra Brunson as someone SNL needed to "pay attention" to, and that they "need to follow up with it like they said they were going to do last year." At the time, Pharoah and Kenan Thompson were the only black actors in a cast of 16, and Nasim Pedrad was the only other actor of color.
G/O Media may get a commission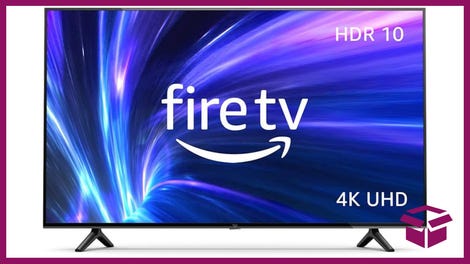 42% Off
Amazon Fire TV 50" 4K Smart TV
After Pharoah's comments blew up, from the outside it looks like SNL felt pressured to respond to the public criticisms of its persistent whiteness; four months after The Grio piece, in January of 2014, Sasheer Zamata had been hired to the cast. And while the discussion Pharoah sparked was part of a larger, ongoing discussion about whitewashing in entertainment, Saturday Night Live is still finding diversity troublesome. The cast remains almost entirely white but for Zamata, Thompson, Jones, and Michael Che; Melissa Villaseñor, the Mexican-American comedian they hired to much ado, was caught deleting thousands of Tweets, some of which were racist against blacks, Asians, and Mexicans.
On Ebro, Pharoah described SNL as remaining "whitebread," and summed up his thoughts on the show as follows: "If you would have watched last season, it was a very prolific season. I had three characters and those impressions that went viral—I didn't really wanna do them at first, Leslie Jones talked me into do the first one [about Kevin Hart and Katt Williams]... I did not expect that to hit the numbers that it did."
Pharoah may have gotten the boot, but he's gonna do fine: his next project is starring in Showtime's White Famous, a comedy based on Jamie Foxx's experience as a young black upstart whose entertainment career is skyrocketing into "white famous" territory. Watch his full interview above.