Last night, I saw the eighth film in the unfathomably successful and resilient Fast and Furious franchise at a nearly sold-out theater in Queens, New York. It was the first of the films I had seen in its entirety, by which I mean I saw bits and pieces of The Fast and the Furious in, oh, 2002, and no parts of any other installment.
Ana Gasteyer Satirizes the Girl Boss in 'American Auto'
The following post contains spoilers for The Fate of the Furious, so please stop reading if you'd like to be surprised by its many twists.
This was not a decision made due to a lack of interest, as I was relatively certain I'd enjoy them all as much as everyone else appears to. For the same reasons I still haven't watched The Wire, The Sopranos, or Breaking Bad, I just resigned myself to the fact that these were cultural landmarks I'd missed. Oh well! But when I found myself offered a ticket to see The Fate of the Furious Thursday night with a group of big fans, I decided to give it a go.
Before going in, I asked for a rundown of the previous seven films, and was told there wasn't much I needed to know apart from: 1) Family is everything, 2) They used to race cars all the time but now all of them work for the government "fixing problems that are usually their own fault anyway," 3) Family is everything, 4) Vin Diesel and Michelle Rodriguez are married, 5) Family is everything, 6) Dwayne Johnson used to be a bad guy but now he's their friend, and 7) Family is everything. After that, I was prepared to enjoy the latest film, which is essentially about the gang trying to take down a hacker played by Charlize Theron. And I did! But there was question I couldn't shake throughout the entire viewing experience, which is: why didn't Jason Statham do any kissing?
G/O Media may get a commission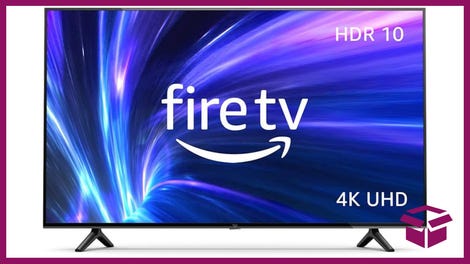 42% Off
Amazon Fire TV 50" 4K Smart TV
There were plenty of opportunities for kisses between Jason Statham and any number of his co-stars, yet screenwriter Chris Morgan included no such moments. Why?
During Jason Statham's first scene, which occurs in some sort of fantastical maximum security prison where dangerous, horny men are fed a hearty diet of HGH and whey, he's taunting Dwayne Johnson from across the hall of their sector. But even though they're sworn enemies separated by the walls of their impenetrable prison cells, there was no reason for Jason Statham and Dwayne Johnson not to have kissed through the glass like people do in more touching movies about incarceration. When Dwayne Johnson rips a concrete bench out of a wall and uses it as a dumbbell, Jason Statham does not kiss the glass and tell him he's beautiful and strong. He just rolls his eyes and threatens Dwayne Johnson with violence. What a waste of a good moment.
Later, Jason Statham and Dwayne Johnson escape the confines of their prison cells and find themselves in the middle of a terrifying prison riot, but instead of making the most of what could be their last opportunity to tenderly kiss each other on the mouth—perhaps with a bit of tongue, but not too much—they once again just threaten each other with violence! A strange impulse, in my opinion, as being kissed is almost always more fun than being punched in the kidney.
Once Jason Statham is rescued (or something) by his boss daddy, played by Kurt Russell, he's allowed to shower and change clothes before being brought into the same conference room as Dwayne Johnson, Tyrese Gibson, Chris Bridges, and Scott Eastwood. Guess how many of those people he kisses? I'll wait. SPOILER! He kisses none of them. Here's how the scene plays out, to the best of my memory:
INT. CONFERENCE ROOM - DAY

TYRESE GIBSON, DWAYNE JOHNSON, KURT RUSSELL, CHRIS BRIDGES, and SCOTT EASTWOOD are chatting. JASON STATHAM enters.

TYRESE: Ew what's this OTHER sexy man doing in here?!

DWAYNE: This good looking bloke is my enemy and I'm both furious and a turned on.

CHRIS: This hot guy? No thanks!

SCOTT: [Silent]

KURT RUSSELL: Come on boys, you're all a team now.
Boring! You know how it could have gone?
INT. CONFERENCE ROOM - DAY

TYRESE GIBSON, DWAYNE JOHNSON, KURT RUSSELL, CHRIS BRIDGES, and SCOTT EASTWOOD are chatting. JASON STATHAM enters.

TYRESE: Hey there, buddy.

JASON STATHAM and TYRESE share a FRIENDLY CONSENSUAL KISS.

DWAYNE: Lookin' good, my man.

JASON STATHAM and DWAYNE share a FRIENDLY CONSENSUAL KISS.

CHRIS: Nice to see you again!

JASON STATHAM and CHRIS share a FRIENDLY CONSENSUAL KISS.

SCOTT: [Silent]

JASON STATHAM and SCOTT EASTWOOD share a FRIENDLY CONSENSUAL KISS.

KURT: Welcome to the team.

JASON STATHAM and KURT share a FRIENDLY CONSENSUAL KISS.
An immediate improvement! But kisses did not have to be reserved for his coworkers and reluctant friends. The men (let's call them "bad guys") he fights with on a big, fancy plane toward the end of the film could have used a little mouth to mouth, too. We all, of course, know onscreen deaths have a more significant emotional impact if the dying person has a romantic (or at least friendly) relationship with another character, so I found it a little bizarre from a narrative standpoint that Jason Statham wasn't given the opportunity to kiss the dozens of henchmen he eventually murders. I kept hoping that a gentle moment—when the trembling mouths of Jason Statham and one of Charlize Theron's evil minions are separated by an inch for a few tense moments before suddenly pressing together like two fast and furious cars sensuously clipping each other while driving through a field of wildflowers—could have turned one of the bad guys over to the good side. If Jason Statham could switch teams, why couldn't someone else?
The Fate of the Furious is not without its charms, and is one of the more exciting and inventive action films I've seen in quite some time (there's an entire set-piece about driverless cars rampaging through Manhattan!), but does a disservice to its audience by presenting so many prime opportunities for Jason Statham to kiss people and utilizing precisely none of them. Maybe they'll learn their lesson by Fast Nine.