Jason Derulo has accused America's shittiest major airline (unless we're counting Spirit) of "racial discrimination" after an incident involving checked bags, $4000, and literal requests to "turn this plane around."

As a primer, here's what Jason Derulo wrote on Instagram:
.@americanair I spent millions on your airline throughout the past ten years between myself and my entire staff but have still experienced racial discrimination today at miami airport!!! Called 15 police officers on me as if I'm a criminal!

It's not ok that when you find out who I am the gears change!

Fuck that!! I want answers #conciergekey #conciergekeymember #thecaptainneedstoshowrespecttoo cause he could #cashmeoutsidehowboutdat #notypo #ifiwasanyoneelseiwouldhavebeenarrested
Because this caption, which accompanied a blurry photo of an employee at what looked like the gate counter, provided few details about what the hubbub was all about, People spoke with Jason Derulo to get some more information. Unfortunately, his comments just made everything more confusing.
They write:
Derulo tells PEOPLE he was flying from Miami to Los Angeles and checked in for his flight with his group and their luggage. He says there was a dispute about the timing of their check-in, so it was decided that one member of the group would stay behind and take the next flight in order to check all the luggage.
G/O Media may get a commission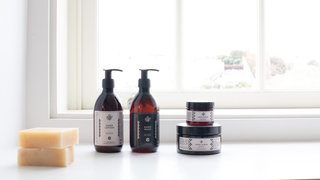 Exfoliate and Hydrate
The Handmade Soap Company
Despite the fact that, yes, Jason Derulo is a member of American Airlines' Concierge Key program, the number of free bags you can check with that status tops out at three. Jason Derulo wanted to check 19. American Airlines said that would be $4000, so Jason Derulo said—uhh, let me quote him on this one:
"We'd never paid for our bags because of our status—with all of our miles—so we'd never paid for bags. So $4,000 is obviously a huge sum. We were like, 'No, we're not paying that. We've got to turn the plane around.'"
So the plane "returned to the gate" and Jason Derulo/his squad got off so they could "travel with their checked bags." My question is, why wait until the plane has left the gate to get upset about paying $4000? (Based on AA's checked bag prices, I'm seeing 19 bags should cost somewhere around $3500.) Did the friend just not tell him until they were seated and chilling on the runway? Like:
Friend: "Oh, by the way, I put $4000 on your Amex for those checked bags."

Jason Derulo: "We've got to turn the plane around! Jason Derulo!"
I don't know the answers to those questions, but I do know what happened next, which is that the captain yelled at Jason Derulo for causing a fuss (Jason Derulo claims he was "cursed" at), and then suddenly shut up after realizing Jason Derulo is famous. (Hence the hashtag #ifiwasanyoneelseiwouldhavebeenarrested.) In a police report filed after the incident, Jason Derulo and his friends were described as "[smelling] of marijuana" and "aggressive," but "no charges were filed."
Jason Derulo told People "he doesn't plan on dropping the issue."
[People]
---
Just days after posting a message on Instagram that said, "Need all the wishes and prayers for my niece," Britney Spears shared a more optimistic update about the condition of her 8-year-old niece following a recent ATV accident.

---
Chrissy Teigen was involved in a hit and run, but it wasn't nearly as bad as E! made everyone think.

[ONTD]
---