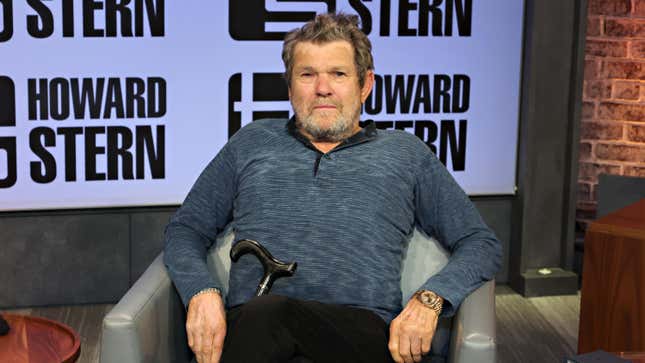 Last week, Jann Wenner, co-founder of Rolling Stone and the Rock & Roll Hall of Fame, made the kind of declaration that only an elderly wealthy white man—one whose legacy has left little room for anyone but fellow elderly wealthy white men—could while promoting his book The Masters. Neither women nor Black artists, he claimed to the New York Times, were "articulate enough" for him to interview for it. Instead, The Masters is comprised exclusively of interviews Wenner conducted with so-called "philosophers of rock" Bob Dylan, John Lennon, Mick Jagger, Pete Townshend, Jerry Garcia, Bono, and Bruce Springsteen.
Less than a day later, Wenner issued a lame apology, clarifying that the artist selections for the book were based on their impact on his world as opposed to the world, and was swiftly removed from the Hall of Fame board. By Monday, he was also publicly denounced by Rolling Stone, which said his comments "do not reflect the values or editorial practices of today's Rolling Stone." Somewhere, I suspect, Courtney Love is rejoicing. Because to many, his comments were simply verbal confirmation of the principles that once governed Rolling Stone and, unfortunately, still seem to govern the Hall of Fame.
"The people had to meet a couple criteria, but it was just kind of my personal interest and love of them," Wenner told NYT of his chosen subjects for The Masters. Then, he got more specific, claiming no female or Black artist met his own myopic criteria as they were not "as articulate enough on this intellectual level."
"It's not that they're inarticulate, although, go have a deep conversation with Grace Slick or Janis Joplin. Please, be my guest," Wenner remarked to NYT. "You know, Joni (Mitchell) was not a philosopher of rock 'n' roll. She didn't, in my mind, meet that test."
Wenner then proceeded to claim that Black musicians are also incapable of becoming philosophers of the genre. "Of Black artists—you know, Stevie Wonder, genius, right? I suppose when you use a word as broad as 'masters,' the fault is using that word," he hypothesized. "Maybe Marvin Gaye, or Curtis Mayfield? I mean, they just didn't articulate at that level." Sister Rosetta Tharpe...the "Godmother of rock and roll"...couldn't expound on it? Big Mama Thornton, famous for "Rolling Stone," was incapable of passing Wenner's "test?" Tina Turner, who the Rock & Roll Hall of Fame literally just credited as the "Queen of Rock and Roll," isn't a master?
For years, the Hall of Fame weathered justified criticism from artists and music critics alike. In a fire and brimstone op-ed published by the Guardian in March, Love decried the "sexist gatekeeping" that kept greats like Chaka Khan and Kate Bush out for far too long. According to music critic Jessica Hopper, just 8.48% of inductees are women. Of the Hall of Fame nominating board, just nine of 31 members are women, Love pointed out.
"If so few women are being inducted into the Rock Hall, then the nominating committee is broken," Love wrote in the op-ed. "If so few Black artists, so few women of color, are being inducted, then the voting process needs to be overhauled. Music is a lifeforce that is constantly evolving—and they can't keep up."
The legacy of Wenner's Rolling Stone, too, is checkered. Hopper's 2018 Vanity Fair oral history of the magazine exposed the immense contributions women made to the publication that have otherwise remained uncredited and overshadowed by Hunter S. Thompson, Cameron Crowe, et. al. At least one woman music critic, Ellen Willis, refused to write for the magazine, calling it "viciously anti-woman" and likening its staff to "a bunch of snotty upper-middle class white males," Wenner biographer Joe Hagan posted on Twitter.
Wenner, who officially left the magazine in 2019, didn't do much to dispute as much and instead doubled down on the magazine's most misogynistic moments. For example, in September 2022, as he promoted his memoir, Wenner addressed the controversy surrounding Britney Spears' first Rolling Stone cover, in which the then-18-year-old appeared only in a bra and underwear. "[Photographer David LaChapelle] got her in her little teenage stuff, her bicycle and short-shorts and hot bikinis. And her own self-sexualization was so strong. And this was just representing that," Wenner said of her 1999 cover.
If the notion of an 18-year-old girl who's new to a predatory fame machine and "self-sexualizing" on a shoot with a major magazine sounds like a bit of a stretch, here's how that cover story started: "Britney Spears extends a honeyed thigh across the length of the sofa..."
Since Wenner's departure, Rolling Stone has appeared to expand its hip hop, rap, and Latin music coverage. Meanwhile, its co-founder recently broadcasted that he didn't know who Cardi B was and bemoaned the supposed death of rock and roll. He also lamented the music industry of late, claiming its concerns have "become very trivialized" due in part to teenage girls. When he started Rolling Stone, he wrote in his memoir, the readership was 90% male, as were its top writers. "It was a macho era," he told NYT last year. "The music today is driven by teenage girls," he went on to note. "Today's music, hip-hop, pop music, I don't listen to as much, and I don't think it is as culturally relevant as it used to be, nor is it musically as good."
Speaking of things that are no longer culturally relevant...it was high time Wenner was removed from the Hall of Fame board. And, frankly, that Rolling Stone distanced itself from him. I, and all the teenage girls he hates, wish him a happy retirement.