NORRISTOWN, Pennsylvania—Model and TV star Janice Dickinson took the stand in the Cosby trial on Thursday, April 12, recounting the time she says Cosby drugged and sexually assaulted her in Lake Tahoe. Her story shared details with several other women who already have testified: a pill to make her feel better, losing consciousness, and waking up half naked and confused. The location is similar to several other women who spoke, as well—a large house that the owner of Harrah's loaned out to Cosby.

As it turns out, Janice Dickinson is still Janice Dickinson, even (or especially) in a courtroom. She openly fought back at defense lawyer Tom Mesereau, and got the people in the gallery to laugh several times at her funny quips. She seemed amused at Mesereau's questions meant to impeach her character. She came close to cursing, but caught herself.
Dickinson first testified in response to questions from prosecutor Stewart Ryan. Through Ryan's questions, she told her account of what happened. Dickinson said she was in Bali on a modeling assignment when she got a call from Bill Cosby. She had met with the legendary funnyman before regarding her career, and this time he again wanted to meet with her. Dickinson recalled that Cosby offered to fly her from Bali to Lake Tahoe to meet up with him. She didn't immediately say yes; he wanted to fly her economy, and she wanted first class. But he got her that first-class ticket, she said, and so she left Bali for Tahoe.
"I saw this as the next step, hopefully to further my career," she said.
Similar to several other women who have testified, Dickinson said she was taken to a house in Reno that the owner of Harrah's leant out to talent. She didn't have any clothes that made sense for Reno's weather, as she was only prepared for Bali, but Cosby had told her not to worry. When she arrived, cold weather clothing already was laid out for her. She met with a musician, who told her that her singing was bad, and then she, Cosby, and the musician went out for dinner.
G/O Media may get a commission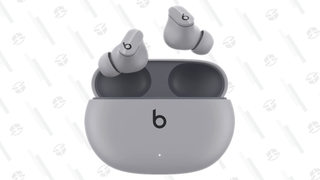 At dinner, she started to get cramps and put her hand on her stomach. Cosby told her he had something for that and gave her a "little, round blue pill." She quickly felt lightheaded after ingesting it. Dickinson described it as, "it didn't sound like my voice was coming out. I was in my head." At this point, they returned to the house and Cosby took a phone call. He finished his conversation and then, Dickinson said, "gets on top of me and his robe opened." She remembered how Cosby smelled, of cigars and espresso and his body odor.
"I couldn't move. I was, I felt like I was rendered motionless, immobile And I was thinking f— sorry. What the heck is he thinking. I was just in shock. I didn't consent to this. I hadn't said yes."
Moments later, she was more emphatic: "I didn't fly to Tahoe to have sex with Mr. Cosby ... I remember. Here was America's dad on top of me and a happily married man of five children. And I just remember thinking how wrong, how very, very wrong it was."
She woke up feeling vaginal pain and seeing semen between her legs. She was halfway clothed in pajamas with no bottoms and felt humiliated. She got up, got dressed, and went to confront Cosby. Dickinson said she told Cosby, "Do you want to explain what happened last night? Because that wasn't cool."
"He said nothing," she recalled. "He looked at me like I was crazy, and I didn't feel crazy in that moment, standing up for myself saying that's not cool, that's not cool. I remember saying, 'You're married. How did this happen? Why did you do that?' Stuff like that. And so much more was going through my brain."
Dickinson said she wanted to punch him, but didn't. She got on a plane back to Bali the next day to finish her assignment there. She never told the police, she said, because she was successful and had clients who would not want her doing that.
"I had clients that would not appreciate the fact that I had been raped and gone to the police to report the crime that took place against me," she said.
She later added that Cosby did call her afterward, while she was in rehab in Minneapolis. She said he called to ask her, "How are my feeeeeeeelings—like that." Dickinson deepened her voice to make it sound more like Cosby. "How are you're feeeeeeeelings."
Her questions with Ryan closed with her addressing what would become a focal point under cross examination. Her book, No Lifeguard on Duty: The Accidental Life of the World's First Supermodel, which describes meeting with Cosby in Tahoe, but says nothing about him sexually assaulting her. Dickinson said her agent and ghostwriter told her that "it would never get past Cosby's legal team because he's a powerful guy." They told her, "he can ruin your career."
"I knew he could ruin my career if I came out and said anything against him," she told the court. "You don't say thing to go against what Bill Cosby says to you."
Mesereau started his cross examination with the expected question he has asked everyone about how she prepared for her testimony. Dickinson had some fun with it, replying "'I got dressed. Showered. Put on some makeup." He quickly got around to peppering her with questions about the book.
Mesereau: "Did you approve it?"
Dickinson: "I wanted a paycheck"
Mesereau: "So you lied to get a paycheck?"
Dickinson: "I don't lie, sir, don't call me a liar"
Mesereau: "But if you are saying this description isn't true about Bill Cosby, then you are a liar."
Dickinson: "I am not a liar."
Mesereau: "But the things you testify today—that you say Bill Cosby did to you—you tell a totally different story in the book."
Dickinson: "I don't know."
Mesereau: "You don't know."
Dickinson: "No. Correct."
Mesereau: "You haven't read your book?"
Dickinson: "Honestly, I was working as a model at the time and I was taking photographs at the time to try and put my children through college to educate them .. rent, insurance braces and this was another project of mine just trying to earn an income, sir."
Seeming slightly exasperated, Dickinson later added: "They, the publisher and the ghostwriter, have given sworn declarations, Mr. Mesereau, of what I did tell them. It's true. Today I put my hand on a Bible. I wasn't under oath when I wrote that book."

At another point, after another series of questions, Dickinson compared the book to a Cosby gig: "I suppose it's like for Cosby—just the difference between TV or an album or writing books or public appearances. You take poetic license in what you do."
Mesereau used the book to pivot to questions about Dickinson's life. He asked her, "You've dated married men, haven't you?" because "in the book you sleep with married men all the time." There was an objection to that line of questioning, but Mesereau brought it back again. Dickinson was completely unfazed.
"Show me in the book where I talk about it," Dickinson said. "You've got the book. Show me."
Mesereau asked her, "Did you spread a false rumor that you were pregnant with Sly Stallone's child?" Dickinson explained that, no, she didn't. Dickinson said that, at the time, she was pregnant, but had sex with two men that month, including Stallone. Stallone stayed with her throughout the pregnancy until a DNA test showed he was not the father ("Thank God" Dickinson threw in while explaining). So, Dickinson said, she then told the man who was her daughter's father.
Mesereau brought up Dickison's lawsuit against Cosby for defamation, as well as her lawsuit against Rite Aid for when she said she was hurt by a parking lot gate. He asked her about her appearance on Celebrity Rehab, when Dickinson said she told Dr. Drew Pinsky about what happened with Cosby. His last question for the morning was about pictures. Mesereau asked, "There are pictures of you throughout the book." Dickinson just laughed. O'Neill asked, "How is that relevant?"
Soon afterward, her cross examination was paused so jurors could take a break for lunch. It will continue later on this afternoon.