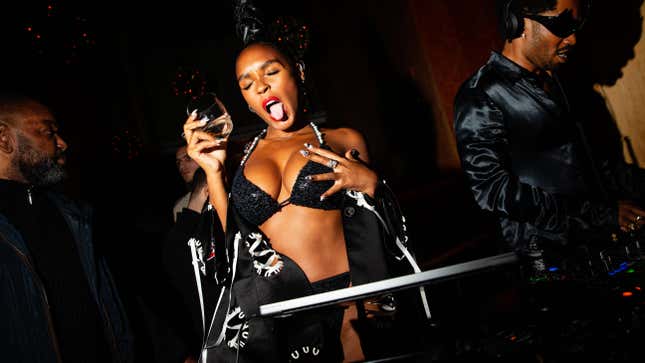 Janelle Monáe has not only returned to music, but is blessing us with titties out for the next 15 years. After dropping a new music video for the single "LIPSTICK LOVER" on Thursday (which can only be watched on YouTube because of the blurred nudity, but trust me when I say it's a hella fun ode to how much Monáe loves kissing people), they announced a whole-ass new album on Friday, The Age of Pleasure, to be released next month. On 6/9, exactly (nice). And as Monáe had teased on Twitter, yes, they are fully topless in the promo album cover, swimming through people's legs like a hot, free, happy, nudist mermaid.
Taylor Swift's Rep Thinks You Need to Calm Down About Her Private Jet
Monáe—a nonbinary multihyphenate who uses she and they pronouns—had released new music in February, but The Age of Pleasure will mark their first return to full-length albums under her name. Monáe's last full length album was Dirty Computer, which was released in 2018.

In the interim, Monáe has been quite busy dazzling us on screen. She acted in Harriet, Welcome to Marwen, Antebellum, Glass Onion: A Knives Out Mystery, and the TV show Homecoming, and she narrated Neflix's Sex, Explained—a great segue into their new topless era.
Also a big makeout era. From a recent interview with Apple Music One's Zane Lowe:
"That song, 'Lipstick Lover,' I'm like, 'Why didn't I write this song years ago?' Because if you know me … Today, I don't have on any red lipstick, but I'm always in red lipstick. And there have been so many instances where I've made out with somebody at a party, and it's dark. Nobody notices it. But when the lights come on, whoever I've made out with, lipstick all over their face. And then I've also been on the receiving end of a human who's so attractive. Or I'll get home, and I'm like, 'Oh my God. I have lipstick all over my face.' And I've also been the 'Lipstick Lover' where you know exactly who I kissed."
As a regular red lipstick wearer.....I totally get it.
Watching Monáe command movie after movie has been fun, but what a better time to remind the world that you are a queer icon than dropping incredibly queer music videos and a gay-as-hell album during Pride Month? Babes, nothing can be better.
Here's the tracklist, via The Fader, to get you amped:
1. Float feat. Seun Kuti and Egypt 80
2. Champagne Shit
3. Black Sugar Beach
4. Phenomenal
5. Haute
6. Oh La La
7. Lipstick Lover
8. The Rush
9. The French 75
10. Water Slide
11. Know Better
12. Paid in Pleasure
13. Only Have Eyes 42
14. A Dry Red