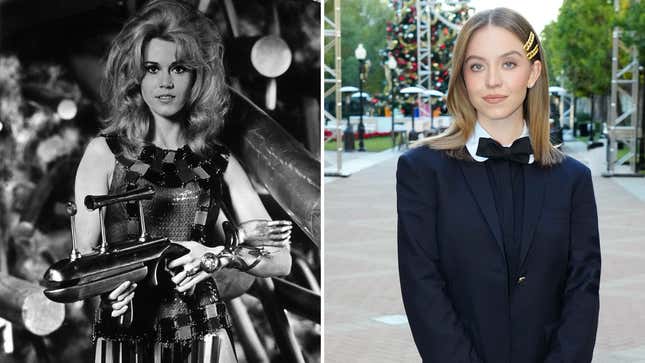 Jane Fonda—the iconic feminist who used her sexpot status to further her anti-imperialist political goals—isn't so sure about the new crop of blonde sexy actresses being able to step into her shoes. Specifically, Fonda is worried about whether two-time Emmy nominee Sydney Sweeney (of Euphoria and White Lotus) and the attached filmmakers can pull off a remake of her 1968 sci-fi film Barbarella.

Luke Macfarlane Talks Starring In Historical Gay Rom-Com 'Bros'
In fact, Fonda tries "not to" think about the upcoming remake, according to a profile of the 85-year-old star published in The Hollywood Reporter last week. "Because I worry about what it's going to be. I had an idea of how to do it that [original producer] Dino De Laurentiis, when he was still alive, wouldn't listen to," Fonda told the magazine. "But it could have been a truly feminist movie."
Fonda has some "complicated feelings" about the movie. "The president of the U.S. chose Barbarella to fly her spaceship, which she did all by herself, to the planet. So, that's kind of feminist, right? I'm the one that's gonna rescue this planet from evilness," she told Glamour last year. "But then once I get there, it's all about making love and having strange sexual adventures, so there's that, which was a bit objectifying of me and women."

I understand why Fonda is hesitant. Remakes are often bad! Plus, Barbarella is an iconic campy dream that probably doesn't need to be put on HD camera. Barbarella is an intergalactic representative of the U.S. government searching for Durand Durand, a scientist whose could laser could destroy the planet. There's space travel and sex and an angel! So Fonda's concern that men updating the film in the 2020s might also fall short of a making "a truly feminist movie" is not unfounded—she herself "rejected" the movie for a long time, she said, but "when I regained my sense of humor, I watched the film and thought, 'Oh!' and I grew fond of it and embraced it.'"
To be fair, I have now rewatched Sweeney scream "I have never ever been happier!!!!" in a high school bathroom in the second season of Euphoria at least two dozen times, so she might be able to pul lit off.
Still, it's shady that Fonda—the very much alive original Barbarella—isn't involved in this project at all. This seems like a pretty solvable problem.