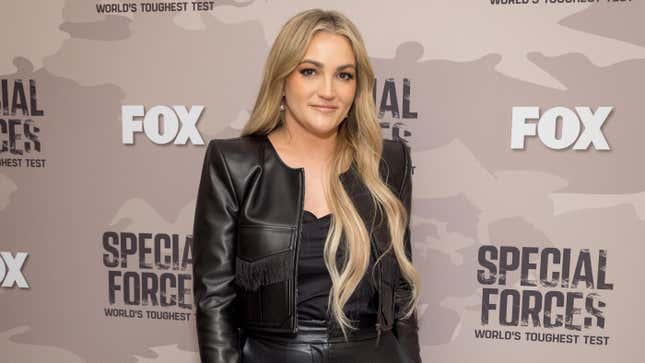 In 2007, while starring in the wildly popular Nickelodeon show Zoey 101, Jamie Lynn Spears' life changed when she became pregnant at 16, forcing her to step away from the show. Speaking on Hannah Brown's Better Tomorrow podcast on Wednesday to her newly released Paramount+ sequel movie Zoey 102, Spears reflected on her first pregnancy and her decision to have the baby.

"The whole world came down and told me I was the worst human alive for doing so [getting pregnant] and that every young girl who ever watched my show was going to be ruined because of me and my personal decision," Spears said of the public's reaction to her pregnancy with her daughter, 15-year-old Maddie Briann, on Better Tomorrow. She said her decision to step back from Zoey 101 was "something I took responsibility for in a way that made sense for me."
Later in the episode, she told Brown she was especially focused on being an active and involved mother, not just because she loves her daughter, but to prove the media wrong: "'I will not be a bad mother,'" she recalled thinking constantly to herself while Maddie was still a small child. "It was obsessive. ... I would not fail. I would not give them the satisfaction."
The world has never exactly been forgiving of teen starlets who so much as hint at being sexual beings—this was certainly true in the 2000s, when Spears' pregnancy set off a tabloid maelstrom. The criticism she faced was especially harsh as, at the time, she was the face of an iconic kids' show.
Spears has previously unpacked her struggles with her teen pregnancy—and the response to it, both publicly and within her family—in greater detail in Things I Should Have Said. In the memoir, she recounts how her parents repeatedly requested that she get an abortion or give her baby up for adoption at a "home for unwed mothers." But their demands that she get an abortion, Spears wrote, only "reinforced" her determination to keep the baby. This chilling tidbit from Spears' memoir closely reflects her sister Britney's claims in 2021 that her father, through her 13-year conservatorship, forced her to keep an IUD inserted even though she wanted kids.
Spears also detailed how her parents "banished" her during her pregnancy to a remote cabin in Mississippi without access to a phone—she still isn't sure where, exactly, the cabin was. "Home felt like a prison without a smartphone or connection to the outside world," Spears wrote. "My team believed everyone outside of the inner circle was a potential threat. They went so far as hiding my pregnancy from my sister, claiming, 'It's too risky to tell Britney about the baby.' I needed her more than ever and she wasn't able [to] help me in my most vulnerable time."
But speaking to Brown on Wednesday, Spears says she eventually came to embrace life in Mississippi, and later chose to leave Hollywood to have a simpler life away from the spotlight. "Being in a small town and going into a store [where the clerk] who's checking you out doesn't care about who you are, what you're doing or who's taking your picture… Interacting with people like that on a daily basis makes you have a much different outlook whenever a newspaper writes a bad headline about you that's not true," Spears said.
A life away from the spotlight is exactly what she's trying to give her two daughters today: "I look at both my children [and think], at least at that age, I was in the business because... I loved it. I was putting myself out there, but my children truly are not," she explained. "That is what their mom does, so anytime that I feel that I've exposed them in any way, you feel tremendous guilt. I try to protect them in every way that I can."