At Monday's heavily-anticipated House Intelligence Committee hearing, FBI director James Comey acknowledged that the FBI is investigating Russian interference in the 2016 election, including "investigating the nature of any links between individuals associated with the Trump campaign and the Russian government, and whether there was any coordination between the campaign and Russia's efforts."
Comey, who announced that the FBI was investigating more of Hillary Clinton's emails days before she lost the 2016 election, said that the Bureau's practice "is not to confirm the existence of ongoing investigations, especially those investigations that involve classified matters." However, "in unusual circumstances, where it is in the public interest, it may be appropriate to do so," and the Justice Department authorized Comey to confirm the investigation. Members of Congress on both sides of the aisle had expressed frustration with Comey's silence on the matter. While the existence of an FBI investigation isn't surprising, it's important to remember how absolutely bonkers this is: a sitting president is being investigated by the FBI for possible collusion with a foreign adversary.
Earlier today, the president made his case:
The ongoing hearing has largely split across partisan lines, with Democrats focusing on issues of Russian interference and Republicans questioning Comey and National Security Agency head Michael S. Rogers about how scary and bad leaks are. Rep. Trey "Benghazi" Gowdy (R-SC) aggressively questioned Comey about "the felonious dissemination of classified material"—apparently not too interested in any actual disturbing revelations about Trump's former national security advisor—and attempted to get the FBI director to agree that journalists should be punished for publishing information from classified reports. (A number of reporters have noted that Gowdy's Benghazi committee frequently leaked to the media.)
G/O Media may get a commission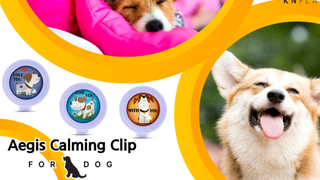 20% off
Aegis Calming Clip for Dogs
"Many of Trump's campaign personnel, including the president himself, have ties to Russia and Russian interests. This is, of course, no crime," ranking member Adam Schiff (D-CA) had said in his opening remarks.
"On the other hand, if the Trump campaign, or anybody associated with it, aided or abetted the Russians, it would not only be a serious crime, it would also represent one of the most shocking betrayals of our democracy in history."
Meanwhile, in Louisville, Kentucky: