James Blunt was aptly named because he's a straight-talking man who writes soulfully about weird drug experiences. I learned this from listening to James Blunt's songs every time Verizon puts me on hold, but apparently not everyone has been so lucky!

"Everyone goes, 'Ah he's so romantic. I want 'You're Beautiful' as my wedding song,'" Blunt told the Huffington Post on Friday. "These people are fucked up."
He goes on at some length:
"You get labeled with these things like, 'Oh, James Blunt. Isn't he just a soft romantic?' Well, fuck that. No, I'm not. 'You're Beautiful' is not this soft romantic fucking song. It's about a guy who's high as a fucking kite on drugs in the subway stalking someone else's girlfriend when that guy is there in front of him, and he should be locked up or put in prison for being some kind of perv."
While this does sound romantic to me under certain circumstances, I realize it's not for everyone, nor should it be. But at the very least you've gotta admit that song is a healthy outlet for dealing with this sort of experience.
Blunt also shared some general thoughts about subways:
"The weird thing about the subway is no one looks at each other. So I play the O2 in London. It's a 20,000 capacity venue, and then I'll take the subway to my gig, and everyone's going to my gig, and no one looks at you. If anyone does, they say, 'Hey you look exactly like James Blunt, only smaller.'"
G/O Media may get a commission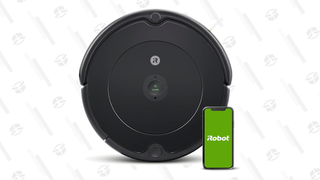 35% Off Black Friday Deal
iRobot Roomba 694 Robot Vacuum
Isn't it cool how "You're Beautiful" is about being high and "High" is about finding stuff beautiful? I always thought that was so cool.
[via The Huffington Post]