Even when you have the most laissez-faire, No Curfew, "You're-Going-To-Drink-So-Drink-In-The-House-Here's-Some-Patron" liberal Hollywood parents ever, you still want to fly the parental coop. Case in point: For Jaden Smith's 15th birthday this July, he asked Will Smith and Jada Pinkett-Smith if they'd sign the papers to allow him to be an emancipated minor, Will told the Herald Sun.
"He says, 'Dad, I want to be emancipated.' I know if we do this, he can be an emancipated minor, because he really wants to have his own place, like 'Ooh.' That's the backlash. On the other side, if kids just want to have command of their lives, I understand."
Smith didn't really confirm he would give Jaden — who counts J'Biébs among his friends and probably wants to work on more lazy summer rap jamz where Dad can't hear him— what he wants, but he can empathize.
"It's very similar for Jaden and me - your father's the biggest movie star in the world, and you're struggling for your little piece of dignity in this extreme shadow."
[Herald Sun via Radar Online]
---
G/O Media may get a commission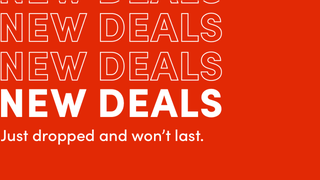 Up to 70% off
Wayfair - Cyber Week Deals
A source close to Mariah Carey (Life coach? Person who does her extensions? Cartoon birds and squirrels voiced by Morris Chestnut who dress her every morning?) says that she's planning her first world tour since 2004's "Charmbracelet." GOD, I forgot it was called that.
The tour would kick off amidst the buzz built on "Beautiful," Carey's fantastic single with Miguel, but hasn't commented yet on whether she is, in fact, leaving American Idol after just one season. [Us Weekly]
---
Today in utterly delightful news, Anderson Cooper is throwing a secret (not so secret now!) joint birthday party for himself and Andy Cohen at Manhattan gay bar Eastern Bloc this weekend. The invitation apparently specifies "No cameras, no plus-ones."
This calls for one of those really-tall-man-in-dark coat disguises they always use in children's movies! I'll be the bottom half?! Who's with me?! [Page Six]
---
New York high-society Crusties gathered at the Four Seasons for an event that literally sums up Prince Harry's entire existence.
Guests invited to dinner with Prince Harry at the Four Seasons restaurant tomorrow night were hopeful they might get a glimpse of Prince William and his pregnant wife, Catherine. "Everybody was hopeful William and Kate would make a surprise appearance, but it seems they won't be there. However, everybody is very excited to meet Prince Harry."
:-| [Page Six]
---
Dr. Joyce Brothers, popular psychologist and media personality, passed away yesterday in New York at 85 years old. Her career took off in 1955, when she became the only woman to win the top prize on quiz show The 64,000 Question, and she continued to make TV appearances as herself for the next four decades.
She also wrote the best-sellers What Every Woman Should Know About Men in 1982 and Widowed in 1992, inspired by the death of her husband. [People]
---