Jada Pinkett Smith fired back against claims former Scientology adherent Leah Remini made over the weekend that the actress has "been in Scientology a long time."

The accusation carried some weight with the public, since Pinkett Smith and her husband Will Smith have been linked to the Church of Scientology before, and have been rumored church members for a while. But on Tuesday, Jada boasted of her ecumenical and noncommittal approach to ancient world religions...and Scientology, writing:
"I recently lit Shabbat candles with Rabbi Bentley at Temple Sinai. I have prayed in mosques all over the world... but I am not a Muslim; I have read the Bhagavad Gita... but I am not a Hindu; I have chanted and meditated in some of the most magnificent temples on earth… but I am not a Buddhist; and I have studied Dianetics, and appreciate the merits of Study Tech… but I am not a Scientologist. I practice human kindness, and I believe that we each have the right to determine what we are and what we are not. NO ONE ELSE can hold that power."
In light of Pinkett Smith's rumored involvement wth the Church of Scientology, Page Six got in touch with the church's LA branch for a comment, and their response sounded…unlikely: "I don't know who [Jada Pinkett Smith] is…maybe you should call and ask her." Cool, what's her number?
[Page Six]
---
Is "balance" like "boo," like "bae"? Does "new balance" no longer mean "sneakers," is it an intimate parter kind of situation now instead? Most importantly: who is this?

G/O Media may get a commission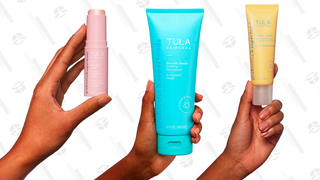 [People]
---