The 126-year-old mystery that has been the subject of countless investigations, books, movies, TV shows and general multigenerational fascination appears to have finally been solved. A forensic scientist claims he has proven the identity of Jack the Ripper, the notorious unidentified serial killer responsible of at least five horrific murders in London, England, at the end of the 19th century.
Daily Mail has the WORLD EXCLUSIVE pretty fascinating story of how two determined men got to the bottom of one of the world's biggest mysteries. According to them and their DNA evidence, Jack the Ripper was supposedly a man named Aaron Kosminski, a Polish Jew who fled to London in the 1880s. The discovery was made by Russell Edwards, a businessman and amateur detective whose interest in the 126-year-old case was piqued after watching the 2001 film From Hell. He obtained a blood-stained shawl that belonged to Catherine Eddowes, one of the victims and brought it to Dr. Jari Louhelainen, an expert in mammalian/medical genetics and forensics.
Louhelainen was able to obtain DNA from both Eddowes blood and the killer's semen/urethral epithelial tissue from the shawl. He then compared that to the mitochondrial DNA of descendants of both Eddowes and Kosminksi's sister and found a 100% match.
As Alan White at Buzzfeed points out, the results have not been independently verified, but Kosminski seems to have always been a suspect. There simply was not enough evidence to bring him to trial. Kosminski, a barber, was 23 when the murders took place. He was committed to a mental institution at the height of the murder spree, and was sent to a string of institutions throughout his life. According to notes written by Assistant Chief Constable Sir Melville Macnaghten at the time of the murders, Kosminski "had a great hatred of women…with strong homicidal tendencies." He died at the age of 53 in Leavesden Asylum from gangrene.
Edwards has penned a book (Naming Jack the Ripper) on the matter, which was released today. So I guess it's only a matter of time before we get that movie! And that's really the point of all this, right?
G/O Media may get a commission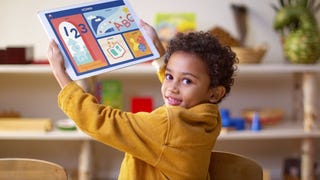 30-Day Free Trial
Homer Learn & Grow Program
Image via Getty.