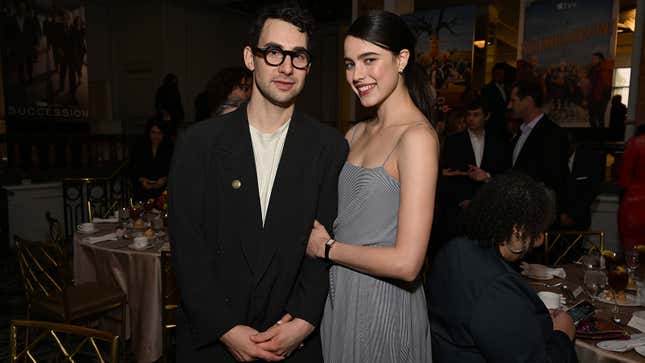 If you weren't familiar with music producer Jack Antonoff and actor Margaret Qualley, you could take one look at Page Six's exhaustive coverage from outside the star-studded event that took place Saturday on New Jersey's Long Beach Island (at least 10 stories spanning the rehearsal dinner and the wedding are on the gossip rag's homepage at the moment) and assume these were some royals you'd never heard of from a country that you also never heard of. But no...it's just Jack Antonoff and Margaret Qualley. What's more, the coverage has been dominated by the comings and goings of superstar guest Taylor Swift, who in terms of sheer media attention, upstaged the proceedings with her mere presence. At least she didn't wear white! She left that to Lana del Rey, who, according to Page Six's headline was "slammed for wearing white dress, platform sliders" to the event. Maybe this was a that's-so-Lana choice to perform sartorial commentary on Americana and the arbitrariness of social mores. Or maybe she just didn't give a fuck.
Taylor Swift's Rep Thinks You Need to Calm Down About Her Private Jet
Anyway, some highlights via Page Six's breathless reporting:
Other bold-faced names in attendance included: Channing Tatum, Zoë Kravitz, and Qualley's mom Andie McDowell. Everyone seemed to be having a good time, if the pictures taken at a distance are an indication, but not everyone on LBI was happy. Page Six found some people who had nothing to do with the wedding and everything to do with one Beach Haven White Marlin Invitational fishing competition that was also taking place that weekend. "Fuck the wedding," said someone on the patio of Bird & Betty's, whose nightclub area was taken over by the wedding party. "They should've planned it on a different weekend." How dare Antonoff and Qualley not think of the fisherpeople!
---