Things in Chez Lopez have apparently been strained since Jennifer Lopez's boyfriend Casper Smart accidentally tripped and fell into an "exotic massage parlor" and a gay porn shop the night before Lopez's 43rd birthday party. She's been "frustrated" and "short-tempered" with Smart since the incident, but is also "the kind of girl who doesn't like to be alone," which is a simply gangbusters reason to stay with someone who annoys the fuck out of you.
They have not split yet, but it's fair to say they are cooling off a bit. The pictures have created a distance between them. Even if Casper is telling the truth, and he didn't mean to walk into the doorway, it just proves how young and immature he is. He should have been more careful. he knows he is often being followed by paparazzi.
Meanwhile, the source says the extended Lopez clan seem to think their daughter is a beard. I mean, the source doesn't say it like that, but that's what she means, right, Source? Source?!
He's moved into her life - and a little too easily, too. I think her family is watching him closely.
[NYDN]
---
G/O Media may get a commission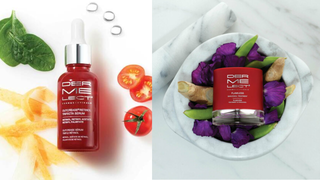 Save $19
Retinol Renewal Kit
Finally, the first official sighting of a Scotch-taped-back-togther Robert Pattinson! At The Deer Lodge in Ojai, California, which offers booze and "warm cowgirl hospitality," Patz hung out with his friends, had a cigarette outside, didn't get that drunk, and then everyone went home, I guess. MORE ON THIS AS IT BREAKS. [Daily Mail]
---
In an interview for Australian TV, Elton John threw some kindling on top of the smoldering heap of his longtime feud with Madonna, complaining that Madge had been unkind to Lady Gaga, who is the godmother of his children. But it got way harsher:
Why is [Madonna] such a nightmare? Her career is over, I can tell you that. Her tour has been a disaster and it couldn't happen to a bigger [expletive].
Later:
If [she] had any common sense, she would have made a record like Ray of Light, stayed away from the dance stuff, and just been a great pop singer and made great pop records, which she does brilliantly. But no, she had to prove that she was like… [pause] And she looks like a [expletive] fairground stripper."
Funny, you'd think going on vacation with your family and Neil Patrick Harris' family would mellow you out a little.
[ABC
---
Amanda Bynes, proud graduate of the Lindsay Lohan Driving Academy, has been accused of another hit and run four months after her DUI arrest and three months after two previous hit-and-run incidents back in May. The driver (who didn't recognize Bynes at first because she "looked like a hot mess") says that she had a short conversation with the actress, but then Bynes drove away without providing insurance information. [TMZ]
---
Although there was plenty of gushing surrounding it, Katy Perry was maybe, inadvertently, a little patronizing about Adele being enceinte. She said: "I love the fact that she's going to have a baby. That's so cute of her." Hrrrrrrrm. [NYDN]
---