Y: Jennifer Lopez and Bad Bunny, "Te Guste" – At some point, my hot mom decided it would be cool and cute to collaborate with my boyfriend, and honestly I'm not even mad. Yes, when he says things like "Tu tienes un tesoro debajo del zipper," aka You have a treasure behind your zipper, I get a little uncomfortable, but damn this is a smash. Jennifer Lopez continues to surprise us all with her ability to stay not only relevant but contribute fresh takes on music, and the 50 other things she does, and not age a single year while she's at it.
In this case, Bad Bunny takes the BX legend for a ride on his trap bandwagon and she shines assuredly still, dropping a couple of bars that, again, make me wish she and other people who keep dipping their toes in Spanish-language songs (cough Cardi cough) would just completely pivot. "Hay muchos que hablan y me lo disfruto, se creen que son muy machos y no duran ni dos minutos," she says. They think they're real manly and don't even last two minutes. Ay mama, give me a heads up next time! And when it comes to BB, hopefully you're not tired of the hits yet because he isn't close to done. "I have a few more surprises for you," he told Apple Music. "Before the year is over I have more music." K, I'm ready. —Ecleen Luzmila Caraballo
---
---
Sure: Daddy Yankee and Anuel AA, "Adictiva" – Speaking of artists who are forever relevant, Daddy Yankee has a new song out this week featuring Anuel AA—a 25-year-old Puerto Rican trap artist who's always either atop Latin charts or drowning in controversy and recently got out of jail after being sentenced to 30 months for possession of firearms. Since his release, many artists have shown their support and helped to elevate his status once more. Balvin had him at his NYC Vibras show, Karol G worked with him on "Culpables," Romeo Santos had him on "Ella Quiere Beber," and now Daddy Yankee, who recently got the Icon Award at the Latin AMAs and whose songs colored the pages of my middle school years, has given him the coveted collab stamp. I really wish male reggaetoneros and their video directors would do anything more than the least when it comes to these videos, but the song itself, I'm into. I've been unsure about the trap artist's future, but here's to hoping the time away helped him to chill out & sentar cabeza. —ELC
G/O Media may get a commission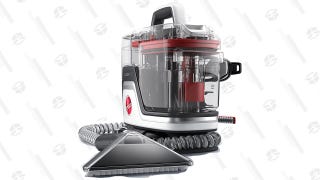 Save $10
Hoover CleanSlate Plus Carpet & Upholstery Cleaner
---
Actually, kinda, yeah: Shawn Mendes, "Youth" feat. Khalid (music video) - You can't go anywhere soundtracked by pop radio these days without hearing Shawn Mendes's "Lost in Japan," and it looks like his balladic "Youth," a collaboration with Khalid, is soon to take over. It's a vague empowerment anthem (there aren't enough of those, huh?) and the video encapsulates that: young people of all backgrounds and ages doing impressive young people things, interrupted with images of contemporary protests. It's not bad, by any means, but the trope is so played out at this point I wonder if it actually has an adverse effect.
And it would, if the video's final three minutes weren't spent identifying those within it, allowing some to speak truth to power and in a variety of languages. In one shot, it's revealed that a 17-year-old brown boy was arrested for bringing a homemade clock to school. In another, a 4-year-old is celebrated as a superhero for feeding the homeless. Mendes and Khalid could've very well kept with the trend of voiceless teens looking somber for gorgeous shots and, instead, let them talk. It's not much, but it's certainly something. —Maria Sherman
---
Y: Mitski, "Washing Machine Heart" (music video) - Director Zia Anger was enlisted for yet another Mitski music video, and like the other Mitski videos she's directed—"Geyser" and "Your Best American Girl"—it doesn't disappoint. It's short and sweet, documenting Mitski's dance with aching loneliness in just a little over two minutes. Noir-inspired shadows and soft highlights offer both a contrast and a compliment to a sullen pop song that is deceivingly upbeat; Mitski's bread and butter. It's a feast for the eyes for anyone who loves Mitski's videos, which tend to be as sweet as they are lurid. It also doesn't hurt that "Washing Machine Heart" is one of the best songs from her latest album, Be the Cowboy. But that's just one woman's opinion. —Ashley Reese
---
Y: Anitta, Solo EP – The 25-year-old Brazilian star whose rise to international stardom is tied with her Spanish-language collaborations with J. Balvin and Maluma, is ready to show she's got the chops to do well solo. This three-song EP, her first collection since 2015 despite her last two successful years, features one song in English "Goals," one in Spanish "Veneno," and one in Portuguese "Não Perco Meu Tempo Mais." The latter, which translates to "Don't Waste My Time," feels most in tune with her sound and is perhaps the most visually interesting and strange of the three. She goes back and forth with different versions of herself, a visual look at indecisiveness, while looking at—and making out with—people of all backgrounds. Still, I suspect Veneno will be the most successful of the three since it's the catchiest, plus because Spanish is the second most spoken language in the world ~ and, luckily for her, she already has a fanbase in Latin America. —ELC
---
Y: ASAP Rocky, "Fukk Sleep" feat. FKA twigs (music video) - Although I completely disagree with the sentiment of this drowsy late-night ballad (sleep is incredible, so let's not "fuck" it), I dig the icy cryo chamber vibes and these two beautiful people acting like rebels without a cause, going all out Purge, while dressed in avant-garde threads, over a drowsy club song. Watch for the pristine FKA pole-dance moment at the end. —Clover Hope