One fun thing about Twitter is it makes it really easy to know who's out partying on a Friday (or up early on a Saturday), and who's sitting at home laugh-screaming at Piers Morgan getting eviscerated on the telly. I probably could have guessed that J.K. Rowling belonged to the latter group, but this devastating series of owns confirms it.

Piers got taken down like an escaped pig during his appearance on Real Time with Bill Maher last night, squeaking out pitiful little noises in defense of Donald Trump while Australian comedian Jim Jefferies mercilessly crushed him.
Rowling, surveying from her perch, approved wholeheartedly.
Morgan retorted that THIS was why he'd "never read a single word of Harry Potter," a jab to which Rowling responded so swiftly it makes you wonder just how long she'd been waiting for this moment. Months? Years? Was the whole series written entirely in the service of eventually trolling Piers Morgan?
G/O Media may get a commission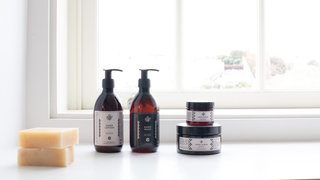 Exfoliate and Hydrate
The Handmade Soap Company
There are a few more in between, but the total annihilation of an already mortally wounded Morgan came with this:
Then Jonathan Chait got involved and the party promptly ended.
---
Drake said on Instagram he did not ask a Muslim woman to remove her hijab during his show in London, contrary to a rumor that started circulating earlier this week.

I make a point every night to end my shows on tones of unity and love so, to find out that I am being utilized in a fake media story about me disrespecting Muslims is devastating to me.

...

I am well aware of what a hijab is and would never make a disrespectful comment like that in my life towards someone who is wearing one. I am proud to say that my closest friends and fans come from all different religions and races, perhaps whoever made up this story should spend more time learning about other cultures and less time trying to divide us.
While bantering with fans, Drake told a woman to remove her "hot-ass scarf," which according to him was not a hijab, but an actual winter scarf. Considering the note on which he's chosen to end past performances, I'm inclined to believe him.
---