J. Balvin, an award-winning, Colombian-born reggaetonero who's quite popular in the United States as well as internationally, has pulled out of his Miss USA performance in protest of Donald Trump's ongoing racism towards Mexicans and other Latin Americans. "Ay vamos," indeed.
The pageant airs live on NBC July 12 and was set to be Balvin's biggest look ever, but he just couldn't do it, he tells Billboard:
"It was going to be my first performance on national [mainstream] television," Balvin told Billboard exclusively from his home in Medellín, Colombia. In fact, he says, repertoire had already been discussed.

"But we're talking about our roots, our culture, our values," he added. "This isn't about being punitive, but about showing leadership through social responsibility. His comments weren't just about Mexicans, but about all Latins in general."
Trump's a blowhard who's made no secret of his racism. But last week, upon announcing his bid in the upcoming presidential election, he made clear that said racism would define his economic policy, and spewed the profoundly idiotic, non-factual, inflammatory garbage that informed Balvin's opinion to withdraw from the Trump Pageants-produced event.
Those remarks included the hilariously specious claim that Mexico is "beating" the US economically, as well as the scarier, racist-appeasing statements that Mexican immigrants are crime-ridden, drug-addled "rapists." (He said that!) Trump also said that Mexico wasn't the only phantom culprit destroying the upstanding values of the USA, but that "it's coming from all over South and Latin America, and it's coming probably, probably, from the Middle East." (Most telling: his deployment of the pronoun "it.")
G/O Media may get a commission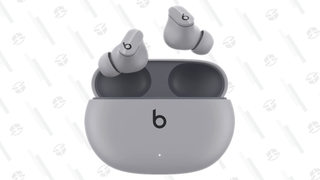 Balvin's retort, to Billboard:
"Mexico is a Latin powerhouse," he said. "And Mexicans, they're known as hard workers. Here in the U.S., not everybody wants to do those kinds of jobs. I've lived. I know what it feels like and what they go through and how families suffer. A comment like that is powerful."

At that point, he says, he made a decision to pull out of the show — this, despite the fact that political commentary is something he typically shies away from.

"I think music is to have fun. It's for people to have a good time with. I'm no savior and I'm no Robin Hood," Balvin said. "But in this case, I feel totally comfortable and responsible with my decision."
It's great to see artists whose music isn't necessarily political nevertheless exercising the considerable political power they wield—particularly when it's an artist like Balvin forgoing as huge an opportunity as a slot on NBC primetime, in the name of decent principles. More musicians should follow his lead.
Billboard reports Balvin will open the Olympics opening ceremony on ESPN July 25. Here's "6 AM," his 2014 megahit with Farruko:
---
Contact the author at julianne@jezebel.com.