Days after Ivanka Trump attempted to sidestep government oversight by assuming an undefined and unofficial White House role, she backtracked and opted to register as a federal employee. Trump's lawyer, Jamie Gorelick, told the New York Times that as a federal employee, Trump "will file the financial disclosure forms required of federal employees and be bound by the same ethics rules that she had planned to comply with voluntarily."
Though she initially said she wouldn't take a role in the administration, Ivanka has been deeply embedded in her father's presidency. She has participated in meetings with foreign leaders, including German Chancellor Angela Merkel and Canadian Prime Minister Justin Trudeau, and advised her father on policy. Her husband, Jared Kushner, is a White House senior advisor.

On March 20, Trump announced that she would "continue to offer my father my candid advice and counsel," via an unpaid, off-the-books advisory role from within the White House. "While there is no modern precedent for an adult child of the president, I will voluntarily follow all of the ethics rules placed on government employees," she said.
Except the government doesn't work on an honor code. It works by enforcing laws. This new role gives Trump access to government-issued communications devices and security clearance. In an administration already plagued by nepotism, tribalism and a lack of transparency, the idea that Trump would become, as her attorney put it, the president's "eyes and ears," raised even more concerns about accountability. Gorelick admitted to Politico that Trump's fashion and jewelry business poses "conflicts" that she hopes to "minimize."
Trump's reversal comes on the same day that Senators Elizabeth Warren and Tom Carper submitted a letter to the Office of Government Ethics voicing concerns about the first daughter's ambiguous role, writing, "Ms. Trump's increasing, albeit unspecified, White House role, her potential conflicts of interest, and her commitment to voluntarily comply with relevant ethics and conflict of interest laws have resulted in substantial confusion." They asked for more details around Trump's role, including a set of relevant laws and legal precedents that enabled the creation of the position, what divestments, disclosures and recusals might be required of her were she a government employee, what guidelines Trump would be expected to follow, and what consequences she would face, if any, for failing to fulfill those requirements.
G/O Media may get a commission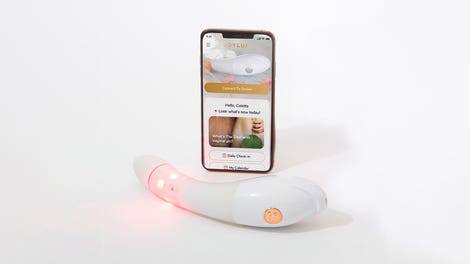 $50 Off
Joylux vFit Gold Device
"I have heard the concerns some have with my advising the president in my personal capacity while voluntarily complying with all ethics rules, and I will instead serve as an unpaid employee in the White House office, subject to all of the same rules as other federal employees," she said in a statement.