The rich may want Donald Trump's tax breaks, but apparently they do not want Ivanka Trump's clothing line.

That is according to Kim Basin and Lindsey Rupp at Bloomberg. They explain that Ivanka's sights were originally set on the tippy-top of the market. She wrote in her 2009 book about her aims for her jewelry line:
"We wanted to offer luxurious pieces in the five-, and six-, and even seven-figure range, but at the same time we wanted to offer entry-level pieces priced between $500 and $1000," wrote Trump. "We wanted to fill that void just below the high-end diamond jewelers such as Harry Winston, Bulgari, Graff, Van Cleef & Arpels–the boutiques that exemplified acquisitions of $50,000 or more—while at the same time creating luxurious pieces that would be the envy of any jeweler."
Things haven't played out quite like that, though. The writers explain that, "The Ivanka Trump label now clocks in alongside mall staples Banana Republic and Ann Taylor," beneath DKNY and Burberry. How it happened:
The pivot began in late 2010, when Trump started her footwear and clothing businesses. She chose to go after a much-less-glossy group of people, discarding four-digit pricetags in favor of numbers more on par with the broader market. U.S. President Donald Trump's election last year accelerated that shift. After losing her most glamorous retail partners amid the controversies and boycotts that have marked her father's tempest-tossed administration, she halted production of the diamond jewelry that was her only remaining fashion business.
G/O Media may get a commission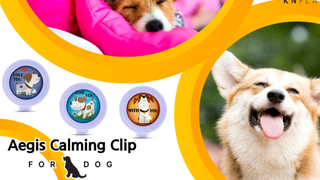 20% off
Aegis Calming Clip for Dogs
Hm—a simulacrum of luxury benefitting someone very wealthy while you are left wearing shoes that you realize upon further reflection pinch your toes. Sounds like a metaphor; if only one knew for what.
As a strategy, it's been pretty successful: "Celebrities, as a branding tool, appeal more to the mass than luxury," said Allen Adams of the consulting firm BrandSimple. "The further downmarket she goes, the more horsepower her brand potentially has." Of course, as the pair point out, her long-term success at this point probably has more riding on her father's presidency than where she tries selling her stuff and for what price. You think anybody would've bought workwear from Tricia Nixon?

Perhaps the most ominous note for her long-term prospects, however:
Ivanka Trump, the fashion label, polarizes shoppers because of the same political divisions that polarize America. According to research firm YouGov BrandIndex, conservative shoppers have a slightly positive impression of the brand, while moderate and liberal consumers have clearly negative perceptions of the brand.
"Slightly positive" is the best she can do among conservative shoppers? Ouch.