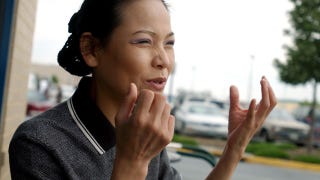 A woman who calls herself The Black Widow is thankful for her giant stomach capacity this year after defeating six men to win a turkey eating contest in Manhattan. Finally, the battle of the sexes has been decidedly won. All that the Spice Girls worked for has come to fruition.
The New York Daily News reports that 42-year-old Sonya Thomas of Virginia entered the eating contest with six other competitors, one of whom was more than four times her size. The contest required entrants to eat as much of at 10 lb turkey they could stomach in a 10 minute time frame.
Thomas was able to polish her turkey off completely, boasting after her win that she'd left only bone.
The Black Widow is hardly an eating amateur; she holds world records in several eating contest categories including oysters and cheesecake. This time, she consumed more than 5 lbs of meat, attributing her excellent performance to the bird's moistness.
The sponsor of the contest, Wild Turkey brand bourbon, awarded the 100-lb woman over $1,500 in prize money for her feat.
Sonya (The Black Widow) Thomas Eats Almost Entire Turkey To Take Top Prize At Thanksgiving Eating Contest [NYDN]