New Girl's Season 6 finale saw the beginning of several new chapters in a way that marks the potential end of the series and, more sadly, an end to Winston's beautiful shirts.
Tuesday night's episode was intentionally filmed as if it could be the last, according to creator Liz Meriwether, because Fox still has yet to renew the series for a seventh season. To that end, the finale played out like a bittersweet romcom ending that leaned more on sentimental resolutions than ridiculous antics. Each of the characters got something they wanted. Nick and Jess realized they're still in love with each other and commenced their reunion in an elevator. Schmidt and Cece found out they're pregnant (actually, everyone else found out before they did). And Winston made contact with his estranged dad at last, with the help of a partner who gets him and his cat Ferguson.
The episode, far from worthy of calling a classic, simply felt like saying goodbye to a good friend down the hall. There is a possibility of another season, but Meriwether couldn't give a definitive answer on whether they'll get to write a more fitting finale. She told The Hollywood Reporter:
"It's up to the network now. We were told to prepare for both versions, so we decided to create a finale that we would be happy with either way — and just hope for a season seven. It's tricky. We wanted to end the show in a way that made sense for the fans and us, but also leave the door open for another season. If I had known this was definitely the end, I don't know that everything would be exactly the same in the episode. But I feel like we did a good job in the situation that we were in."
As for whether the show should end, it feels like it's time. If last night wasn't the last of it, the next season certainly should be the end for a series that's exhausted many possibilities between the group. Though Nick and Jess, as characters, are better together than apart, the story tended to suffer because of it. I also found that the introduction of the Coach character (Damon Wayans Jr.) threw off the dynamic over a couple seasons. At its best, though, New Girl had a singular absurdity to it. An official finale would give us the proper closure.
"I still feel like there's a lot we can do with the characters," says Meriwether. "Any version of Schmidt and Cece, whether we jump ahead and they already have the baby or we follow the pregnancy, would be really funny to me. I love these characters, and it's fun seeing them slowly progress into adulthood. Hopefully we could get Nasim [Pedrad] back. I love her and Lamorne [Morris] together. There's a lot of fun there. The Nick and Jess thing is a continuing riddle. Our writers are amazing, and I know we'll figure something out."
G/O Media may get a commission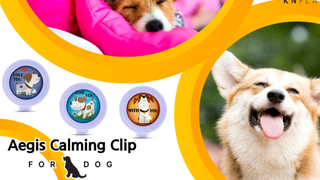 20% off
Aegis Calming Clip for Dogs