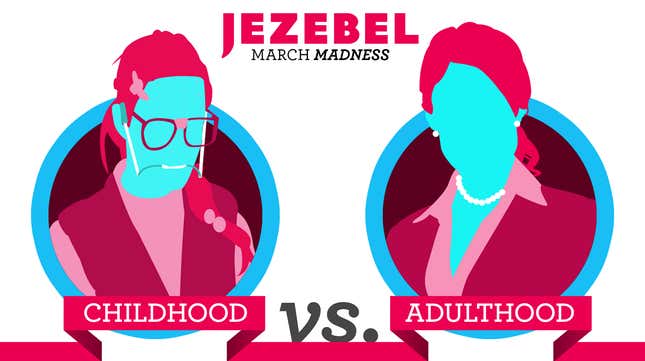 I am mad that I have Europe's "The Final Countdown" stuck in my head for this, but it is in fact the FINAL COUNTDOWN: Our four most popular March Madness teams will, after this vote, be pared down to two and in just a few days, we will have a winner. Do you FEEL like you're giving BIRTH? Here, listen to this (and suffer!) alongside me:
In Friday's Elite Eight round, heads rolled. In the Childhood Division, Everything Is Free beat out Getting an A, Long Summer Vacations beat out Making New Friends by Just Saying "Hi."
In the Adulthood Division, Getting a Raise won over An Actual Car (But It's Probably Not Pink). In the most surprising upset, Short Summer Vacations (But With Alcohol) beat out Going to Bed Hella Early, which I was certain might take this whole thing given your propensities for flannel nightgowns and relaxation! But a pattern has emerged: you all like money and time off in all forms. That is so, so real.
So as we enter this round, you will be forced to choose which matters more.
In the Childhood Division:
Would you prefer Everything Is Free (8)—that is, you never have to pay for anything, ever—or Long Summer Vacations (9), which is to say, the entire summer off?
In the Adulthood Division, is it more important to you to Get a Raise (14) or to have a Short Summer Vacation (But With Alcohol) (9)? Good lord. The choice is yours.
You have 24 hours to vote... godspeed.