Stassi's 29th birthday could not have possibly begun with better intentions. In last night's episode of Vanderpump Rules, she had an excellent idea: to throw a b-day bash themed around what everyone loves. That is, murder. It's the death of her 20s, so to speak. It's her birthday, as it is every year. And yet, the night ended as it always does, with Stassi cry-screaming and Katie in a bad outfit.
Why won't the universe allow Stassi to have a normal birthday party? Stassi's lot in life seems to be a lifetime of bad birthday parties, but I guess we all have to manage our burdens.
"I'm having a birthday party this weekend and it's, like, murder-themed," Stassi tells BJ, the owner of Dapper Cadaver, upon entering his shop. BJ, with actual clasped hands, replies, "Excellent." Stassi's support system Katie has tagged along.
To explain a bit, Stassi enjoys murder and gore and horror— "Just death in any way," she summarizes nicely. She even has big plans for her funeral to the point that her friends have pre-RSVP'd. "I really hope that I outlive Stassi, just so I can go to her funeral," Katie says in a confessional, being supportive. (Remember this because it comes back up again in a sad way.) Stassi wants her born day to reflect her murder obsession, for once, and luckily this store has everything, from creepy clowns to impaled heads and also pumpkins.

G/O Media may get a commission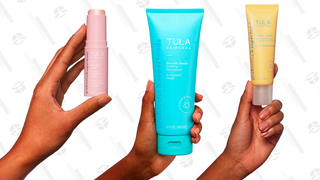 The invite list for Stassi's party is already controversial. Her sometime-boyfriend Patrick should be there, in theory, but they're not on the best terms. Patrick took a trip to Amsterdam alone (just for a few days...to get away). Stassi tried to sext him from afar, but he wasn't feeling it (probably busy doing stuff...). Stassi got mad, they had a text-fight, Stassi threatened to "find someone else," and Patrick blocked her. They're fine. "Just because Patrick blocked me, it doesn't mean we're broken up," Stassi explains.
He's the least of her problems anyway. Guess who dared to be born on the same day as Stassi?
---
"I am so excited for my Kings and Queens birthday party," Ariana tells us. She's turning 32 and wants to throw "the biggest birthday blowout" ever. In conversation, Scheana smiles and nods aggressively as a sign that she's super on board with this idea because she knows competing birthday parties is a perfect storyline. Ooh, the dichotomy, she's thinking.

In lieu of impaled heads, Ariana and her girls are seen shopping for an outfit fit for royalty and discussing how Ariana's not getting sexed because, as we later find out, she's been traumatized from a past emotionally abusive relationship.

Back to Stassi.
"Tonight, for my birthday party, I'm going for shot-in-the-head chic, but like I've only been dead for 24 hours," Stassi says while getting her makeup done. Kristen accurately describes the look they're going for as "like sluts in a morgue." This is big.
Tom Sandoval, of course, will be at Ariana's party because she's his girlfriend. "When it comes to costumes, I can't be basic," he says in a subsequent confessional. "I feel like it's a way to really express myself." You can tell he really enjoys this.
On the other side of town, at the murder party...

Tom Schwartz, ever embarrassing everyone but himself, walks up to a zombie prop and puts his penis in its dead face. Crass... "I should've thought about that," Stassi exclaims. Too late. Every guy will be shoving their penis in the dead prop's face all night long.
Can't say I didn't laugh, though. I have to note that Schwartz impressively used the word "macabre" in his confessional, to describe the party, and with correct pronunciation. I imagine Schwartz looking up "how to pronounce macabre" prior to the party, and then saying it to himself in a mirror several times beforehand, and then smiling once he nailed it.

Patrick does indeed show up to Stassi's party but has the nerve to not wear a costume. Stassi doesn't mind. "At least he's here," she says.
He proceeds to gush about how "beautiful" and great his Amsterdam trip was. Subtext: Without her. Stassi drinks a lot to deal with it.
"I don't get Stassi and Patrick," Kristen tells the camera. We all agree.
Here's where things shake up in a manner that makes Vanderpump Rules so Shakespearean. Katie wants to liven up this literally dead party by doing ass shots on Arielle (oh, that's the stripper from Katie's bachelorette party in New Orleans). But for some reason, the idea of ass shots makes Stassi irrationally angry—"This is annoying," she says. Perhaps it's just that people are trying to clue her in on the fact that her party is dead and wack?
"It's my birthday and what I say goes," Stassi says and then runs out into the night. Katie and Kristen follow.
The best scene of the night is NOT Stassi drunkenly running into the street. It's NOT Stassi saying, "Have I once fucking wanted to get a lap dance?" It's NOT Kristen telling Stassi, "You are being a bitch." (And what about your bar tab?!!) It's NOT Stassi repeating, "It's my birthday!" It is her birthday!
No, the best scene of the night is when Katie starts to slowly chase after Stassi but then pauses and turns back as Kristen yells, "Katie, I'm not running after her! Fuck that shit. Fuck it." That's growth.
"You're a fucking adult. Get a grip. Grow up," Kristen says in a confessional. My, how the tables have turned.
It was Stassi's birthday. But it was also Ariana's birthday. Ariana had a much better time and was not, as Stassi says, "fucking annoyed by how everything turned out."