Another round of emojis is expected in June to aid us in gradually phasing out unnecessary written and spoken language. Among the 69 potential useful selections are breastfeeding emojis, a Merman and Mermaid, a vomit emoji, and a genie, all of which seem pertinent to daily living.
What else is next? Via Us Weekly:
According to Emojipedia, the contenders are as wide-ranging as a pie, a scarf, a T. rex and a person in a sauna. While there is no guarantee that all 69 emojis will be released, a number of the emojis were proposed and voted on by users via site emojirequest.com earlier this month.
Best familiarize yourself with this new set of language tools early.
Here's the emoji for using ethanol before kidnapping someone.
G/O Media may get a commission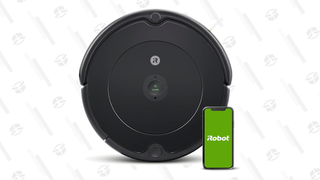 35% Off Black Friday Deal
iRobot Roomba 694 Robot Vacuum
Here's what will replace the eggplant emoji for you-know-what.

Likewise, this is for when you want to climb something ;)
But sometimes you need a closer look.
Another heart.
And this is for when you're breastfeeding and need to pull out your phone and text someone about it IMMEDIATELY: