Lego is having the best year ever and it's all because girls want to pretend-shop, beautify, and pet puppies during playtime: the company said today that its sales soared 25 percent last year thanks in part to its new "Lego Friends" series of very pink and girly building blocks.
We covered the Lego Friends controversy at length last year: why would Lego patronize girls by creating what pop culture critic Anita Sarkeesian called the "pastel-colored, gender-segregated, stereotypically female suburban paradise" of Heartlake City, complete with a "Butterfly Beauty Shop" and a "Fashion Designer Workshop?" Advocacy group SPARK sent an open letter to Lego accusing the company of a "lack of faith… in girls' skills and interests." But despite all the outrage, Lego Friends launched as planned, and it sold and sold and sold.
So now Lego is all "Fuck you haters, gender stereotypes are real." (In more profesh terms: "on revenue of 23.4 billion kroner ($4.2 billion) its net profits grew 38 percent, to 5.6 billion kroner ($1 billion).") So what now? We could debate whether the toys are selling so well because parents are used to hitting up gender-specific toy store aisles, or because we've normalized gendered concepts of play, but at the end of the day, the numbers speak for themselves and we can't expect Lego to back away from what is now a very tried-and-true way to make a major profit.
I'm frustrated that girls get Butterfly Beauty Shops while boys get to explore jungles and planets, but I think there are more pressing feminist issues to focus on. (Just one example from today's news: paid sick leave.) I spent hours playing with super-girly toys as a kid: Barbies, Polly Pockets, doll houses, etc. I liked detailed miniatures because they were the best toys for elaborate story-making. Lego researchers said last year that girls wanted detail for exactly that reason; girls told them that they wanted "to shrink down and be there."
G/O Media may get a commission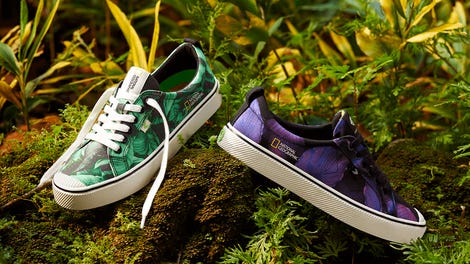 New New New
Cariuma + National Geographic
I didn't grow up upset that I looked nothing like Barbie; I don't remember ever even considering her appearance at all. I was too concerned with devising plots about who was secretly sleeping with the Ken doll that looked like Aladdin and who would get cast as Hodel in my upcoming doll production of Fiddler on the Roof. (So much backstage drama, let me tell you.) I don't write about reproductive rights and rape culture because of the toys I played with, but because I grew up with strong role models who encouraged me to assert myself, speak my mind, and spend hours away from the TV using my imagination (and getting extremely frustrated about how my Barbie's shoes would never stay on.)
I'm glad advocacy groups spoke up when Girly Legos launched because the controversy fostered important discussion about sexist advertising and gendered play. But since it looks like Lego Friends are here for good, let's stop picketing Heartlake City. Instead, we can promote alternative toys whenever possible and focus on the greater message we should be sending girls (and boys): the world will try to tell you otherwise, but you deserve equal treatment and you can be whatever you want to be.
[AP]