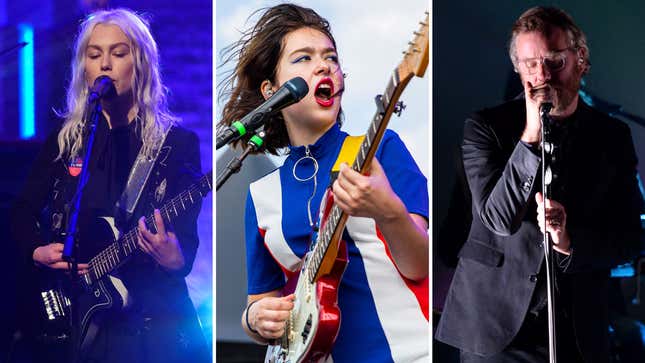 If the lyric "I backed my car into a cop car the other day/ Well, he just drove off, sometimes life's okay" rouses a pang of nostalgia in your tender heart, I just wanted to check in on how you're doing today. Within a span of two hours, Pitchfork published three articles announcing The National's new tour and album (ft. Taylor Swift, Sufjan Stevens, and Phoebe Bridgers), Boygenius' three new singles and debut album, and Snail Mail's upcoming tour. Doctors are recommending indie music fans sit down and catch their breath.
First Two Pages of Frankenstein will be The National's ninth studio album and will be released on April 28th. A month later in May, Pitchfork reported, the band will go on tour with openers Patti Smith, Soccer Mommy, the Beths, and Bartees Strange. Along with their announcement, The National released a single from the upcoming album called "Tropic Morning News." If you're feeling faint, drink a glass of water before proceeding with more alternative music news.
At the end of March, supergroup Boygenius plans to release their debut LP, The Record. Boygenius is composed of Phoebe Bridgers, Lucy Dacus, and Julien Baker, who formed the group in 2018 with their self-titled debut EP. In anticipation of the album, they released three singles, "$20," "Emily I'm Sorry," and "True Blue." Is all of this giving you...emotional motion sickness? If so, roll the windows down.
Lucien Laviscount Dishes on Red Flags and Romantic Deal Breakers
And finally, Snail Mail, the band fronted by Lindsey Jordan, will be touring their 2021 album Valentine starting April 7th. The tour includes two performances at Coachella. How are we doing? Do you need to dunk your head in a bucket of ice cold water?
Needless to say, today must have been intense for the indie music writers over at Pitchfork. And to think, they're barely recovering from reviewing Belle And Sebastian's album Late Developers last week and Soccer Mommy playing on NPR's Tiny Desk concert this morning. My thoughts and prayers are with them and with the bank account's of all indie music fanatics planning out their Spring 2023.