Stand by for the most disgusting beverage-related news since the invention of green juice: Coca Cola apparently plans to introduce a new "premium milk" product that'll cost more money. Well, that's one way to cope with the fact nobody wants to drink soda anymore!
Business Insider reports this milk news according to North American Coca-Cola boss Sandy Douglas, in remarks at Morgan Stanley's recent Global Consumer Conference (via this SeekingAlpha transcript). The product is called Fairlife, and it involves a special filtering process that results in 30 percent less sugar, 50 percent more protein and zero lactose. "We'll charge twice as much for it as the milk we used to buying in a jug," said Douglas, adding that, "It's basically the premiumisation of milk."
Yeah, here's the thing about regular milk: The longer you think about it, the grosser it is. Spend a good minute and a half contemplating milk and you'll feel downright queasy. The thought of some strange jacked-up experiment in dairy science packaged by Coca-Cola is so revolting I seriously feel like my stomach lining is sweating.
But, the product is actually the work of Minnesota dairy farmers (who got a nod in Fast Company's most innovative companies issue). They created this video to explain WTF FairLife is, and they promise it is totally healthy and nutritious and wholesome:
If that's almost convinced you FairLife might be a delicious, nutritious alternative to your jug of 2%, consider this ad campaign they ran, featuring "milky pinups," which—there's just no other way to put this—look like ads for bukkake:
G/O Media may get a commission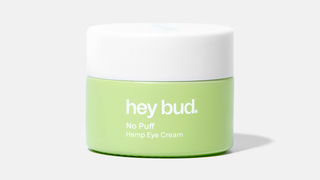 15% off
Hey Bud - No Puff Hemp Eye Cream
And yet, Coke thinks this'll be big time:
Now to be clear, we're going to be investing in the milk business for a while to build the brand so it won't rain money in the early couple of years. But like Simply, when you do it well it rains money later.

Just straight raining milk money all over downtown Atlanta. A veritable cash geyser of milk.
Photo via AP Images.