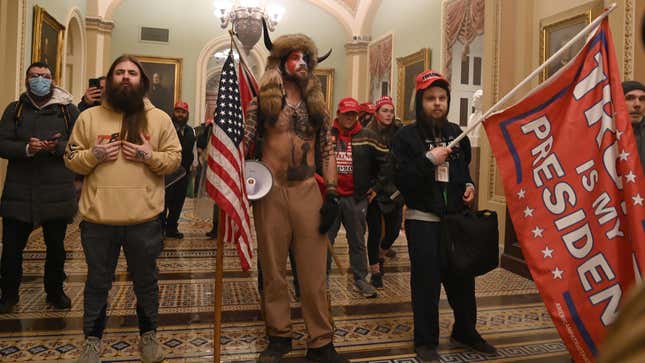 This summer, abolitionists and protesters were gassed and shot at in the streets and in their homes, all for rising up against a white supremacist paramilitary state intent on violence and subjugation. In D.C., President Trump orchestrated a similar tear gas attack on protesters outside a church on live television. The thought of a single protester then—deemed an "antifa spy" by the conservative media at large—getting within even feet of the Capitol building is monstrously laughable, with all the armored police guards, tanks, and on-call National Guard squads roaming the streets.

The experience of a "protest," or even simple demonstration, apparently changes quite significantly when one is a white supremacist.

Currently, on Wednesday, Trump supporters and election conspiracy mongerers have made an attempt to storm the Capitol building. Lawmakers are being evacuated through tunnels, per MSNBC, while others are sheltering in their office, like Michigan Rep. Haley Stevens. One Politico reporter shared "escape hoods," which supposedly protect against chemical, biological, and radiological attack.
Scenes of the situation meanwhile are, at a glance, dire:
But in the panic, misinformation has rapidly spread online. One video showed a cross being erected by zealous Trump supporters, at what appeared to be the Capitol, but in actuality, was a video from a rally in Michigan.

As pandemonium ensues, Republicans and Trump supporters have begun to claim it is an orchestrated event by antifa, as documented by Right Wing Watch. CNN also reports that the U.S. Capitol is officially on lockdown, with Capitol Hill residences under evacuation, as protestors break through the East Front barricade erected by police.

Moments ago, white supremacists successfully breached the Capitol, carrying a Confederate flag.
The egregious display of nonviolent resistance by police against said protesters illustrates the core of their continued success in this attempt to enter the Capitol: It is very easy to do this, when one is a white supremacist.
It is exactly that simple. Unlike protesters this summer, who fought for a complete re-imagining of the American political and paramilitary apparatus, protesters currently inside the Capitol, some carrying Confederate flags, are not being treated as a similar threat. They are, in every way, the final shape of this country, and era in American history, as envisioned by Donald Trump and his demonic horde.

Currently, clashes inside the Capitol between rioters and the police force appear to be ongoing:
Trump, meanwhile, stoked the flames:
Representatives on the House floor were then given gas masks after tear gas was deployed inside the building.
While elsewhere, Mayor Muriel Bowser has instituted a citywide curfew from 6 p.m. Wednesday until 6 a.m. Thursday, January 7.
As this is a developing situation, this story will be updated
Update, 3:25 p.m.: MSNBC reports that someone has been carried out of the Capitol on a stretcher. Due to the graphic nature of the video, click here.

House security also had guns drawn at protestors who had broken the glass facing into chambers at 3pm.
Elsewhere in the Senate offices, white supremacist Baked Alaska livestreamed himself.
One reporter documented how reporters and lawmakers inside the Capitol could literally hear the "rumbling" underneath their feet, and the panic amongst staffers and coworkers. A Washington Post reporter claimed that a source told them that the Defense Department denied requests by DC officials to deploy the National Guard, in complete opposition to the response to abolitionists and anti-police protestors this summer.

Election protestors in Kansas also breached the statehouse, according to KSNT's Capitol Bureau.
Similar events are now playing out at Georgia's Capitol, according to a reporter for the Washington Post.
Update, 3:50 p.m.: Former Acting Assistant Secretary of Defense and Michigan Rep. Elissa Slotkin claims she has spoken to Chairman of the Joint Chiefs of Staff Mark Milley, and that National Guard troops have been approved and are in coordination with Capitol law enforcement. Of course, that same law enforcement hasn't done much to begin with, as they've demonstrated, so it's unclear what that coordination looks like.

Footage was also obtained via livestream of protestors taking selfies with what appears to be members of the police:

New York Times also reports that a pipe bomb was found at the R.N.C. and that it was successfully detonated by a bomb squad, per a statement by the R.N.C. There was a similar package left at the D.N.C., with the Times reporting that the "top Democrat" spoken with was not "authorized to speak publicly about it."

Following earlier reports, one person was shot inside the Capitol by law enforcement, according to NBC News.
Update, 4:24 p.m.: Trump has released a video to Twitter in which he repeatedly tells election conspiracy mongers and the mob that the election was "fraudulent" and "stolen," and that he "loves them" and that they are "special."

Update, 4:40 p.m.: In what I think might be a notable development, the National Association of Manufacturers have distanced themselves from the state of affairs in D.C., and asked Pence to "seriously consider" the 25th amendment.

Reigning goblin prince Madison Cawthorn's staff released a mind-boggling statement:
Rep. Ilhan Omar announced she is drawing up Articles of Impeachment.

Update, 5:05 p.m.: Camera crew equipment has been jacked and compiled by the mob.

D.C. Police say that only 13 arrests have been made, according to Buzzfeed News. I watched as LAPD made this many arrests every minute, if not more, this last summer, during the uprisings.