Here's a headline to elicit one last strangled scream from your depleted corpse, via the New York Times: "Donald Trump's Election Leaves Angela Merkel as the Liberal West's Last Defender." While there's arguably no one more qualified to play this role than Germany's brilliant, taciturn "Mutti," this is absolutely terrifying.
German Chancellor Merkel, who just two years ago presided over an unusually stable nation marked by its preference for centrists, is now facing the same far-right nationalist insurgency that's spread through Europe and the U.S. Unfortunately, she is growing "tired," associates told the New York Times. She's been in power for 11 years and is under pressure to run for a fourth term (there are no term limits in Germany), but whether she will is as yet unclear. What's more, with the frighteningly successful rise of Germany's anti-immigration party Alternative für Deutschland (AfD), which gained traction following the country's influx of Syrian refugees, it is also unclear if she would be successful.
Merkel is—was?—one of the United States' principal allies, a close partner of President Obama and a staunch defender of the European Union. In a message to President-Elect Donald Trump last week, Merkel wrote:
Germany and America are bound by common values—democracy, freedom, as well as respect for the rule of law and the dignity of each and every person, regardless of their origin, skin color, creed, gender, sexual orientation, or political views. It is based on these values that I wish to offer close cooperation, both with me personally and between our countries' governments.
G/O Media may get a commission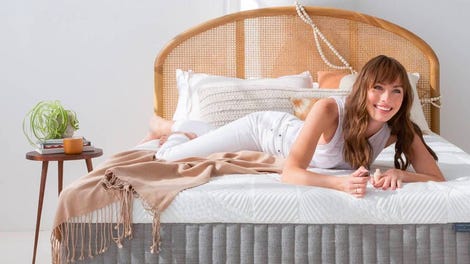 Sleep Sale
Sleep Sale - Brentwood Home
This will be, to put it lightly, very difficult. From the Times:
Ms. Merkel needs to fend off a resurgent Russia that is promoting its brand of illiberal democracy by backing right-wing parties throughout the Continent and fanning the flames of populism. But with Mr. Trump openly admiring Russia's president, Vladimir V. Putin, even maintaining economic sanctions imposed on Moscow over conflicts in Crimea and Ukraine will be a challenge.

"Never before has so much ridden on the Germans," said Simon Tilford, the deputy director of the Center for European Reform in London. "We're very fortunate that Germany is led now by Merkel, because there is a chance she will step up and do what Europe needs her to do."
But can she do it alone? And while relying on U.S. military and intelligence capabilities? Oh my god? The UK is imploding over its Brexit vote, much of Europe is in flux, and France, another key ally, is looking at a deeply unpopular President Hollande and the very real prospect of a Marine Le Pen presidency. Marine Le Pen, leader of France's far-right National Front party, has faced charges for hate speech and openly admires autocratic Russian President Vladimir Putin's policies as "reasoned protectionism."
"It's the emergence of a new world," Le Pen said after Trump's win. "It's the end of the 20th century."
The prospect of Le Pen, the Times notes, creates a near-impossible decision for Merkel, whose government has postponed strengthening the eurozone:
If Ms. Merkel "wants to prevent the worsening of the political situation in France," he said, that would mean loosening up on the eurozone — a banking union, pan-eurozone public investment, an end to austerity. "And that would mean Merkel facing down" the right in her own party, Alternative for Germany and her finance minister, Wolfgang Schäuble.

"To help France and prevent Le Pen is to risk increased populism in Germany," Mr. Tilford said.
A message from the women of Jezebel to our woman in Germany:
nfdksafne;iaowfnewa;ofneiwao;fneowiafjewio;afjewioa;fjeiwoa;fjeiwoa;fjeiw;aofjeiwao;fjeiwoafjeiwo;afjewio;afj;oifiwjfeiow;afjewioameio;wamcoeiw;acmiwa;mceiow;amciewao;fjew;fjeiwao;fjeiwoajfi;woajfieow;jfiowa;jfeiowajfwioa;fjeiow;aj
If you're feeling more verbose and would like to offer Chancellor Merkel your support and gratitude in the face of a worldwide authoritarian takeover, please send her a note here.