If Hillary Clinton is declared America's first female president tonight, it'll be thanks in no small part to decades of groundwork by generations of women. Among them: Shirley Chisholm, the first African American woman to run for president as a major party candidate.
In January, the BBC marked the anniversary of Chisholm throwing her hat into the ring, entering the Democratic primary in January 1972. She'd been elected to Congress in 1968 on the slogan "unbought and unbossed," making her the nation's first black woman representative; her 2005 New York Times obituary recounts how she approached her new job:
Soon she was challenging the seniority system in the House, which had relegated her to its Agriculture Committee, an assignment she criticized as irrelevant to an urban district like hers.

"Apparently all they know here in Washington about Brooklyn is that a tree grew there," she said in a statement at the time. "Only nine black people have been elected to Congress, and those nine should be used as effectively as possible."
"I am not the candidate of black America, although I am black and proud," she said in her 1972 campaign announcement. "I am not the candidate of the women's movement in this country, although I am a woman and I'm equally proud of that. I am not the candidate of any political bosses, or fat cats, or special interest."

She faced a tough fight, Smithsonian magazine relates:
Even with the field narrowed, Chisholm still struggled to get votes even from her supporters. One woman told the Tucson Daily Citizen, "I would like to be able to afford a vote for Shirley Chisholm, but I can't. I want someone who will beat Nixon." The same article in the Tucson Daily Citizen described a 50-something year old woman actually wearing a Chisholm for President button who still hadn't decided who to vote for.

"She did not think that she was ever going to be elected president," Gottlieb says. "She felt strongly about her issues and she thought that only she could talk about them in a way people would listen to. And she hoped to get enough delegates to go to the convention as a power broker."
G/O Media may get a commission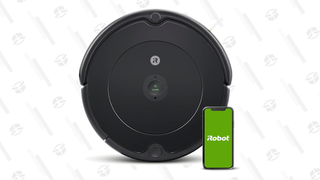 35% Off Black Friday Deal
iRobot Roomba 694 Robot Vacuum
She made it to the convention with 152 delegates, where ultimately George McGovern comfortably secured the nomination. But while Chisholm might not have been running purely for the symbolism, she'd made her point nonetheless. Her LA Times obituary quotes her memoir, The Good Fight: she did it because "someone had to do it first."
Chisholm would continue to serve in Congress until 1983, where, as Smithsonian magazine notes, she was a founding member of both the Congressional Black Caucus and the Congressional Women's Caucus. She worked for a wide variety of causes, as outlined by the BBC:
She championed a bill to ensure domestic workers received benefits, was an advocate for improved access to education, and fought for the rights of immigrants. She sponsored a bill to expand childcare for women, supported the national school lunch bill and helped establish the national commission on consumer protection and product safety.

Shirley Chisholm also worked tirelessly to expand the government-funded food stamps programme so it was available in every state, and was instrumental in setting up an additional scheme, The Special Supplemental Nutrition Program for Women, Infants and Children (Wic), which provided support for pregnant women.
She wasn't afraid to call out supposed allies who got "put up or shut up" confused, either. Via the LA Times:
But she was openly critical of the House leadership for failing to make adequate progress on social programs.

" ... I have grown to detest many of the white Northern liberals who are always ready with rhetoric about equal opportunity in jobs and education. [However] when the time comes to put the heat on, in committee and on the floor, and do something, like passing an amendment or increasing an appropriation, too many of these white knights turn up missing," she wrote in "The Good Fight."
In 2015, she was posthumously awarded the Presidential Medal of Freedom by Barack Obama.