All during The Force Awakens, my enthrallment at seeing a woman character kicking ass onscreen was interrupted by thoughts about her fashion and beauty looks that I couldn't control and found mildly embarrassing. Wield that light saber, woman! I mentally cheered. That is such a fantastic no-make-up make-up look!
Chief among these thoughts was a prevailing opinion of her boots—mainly, a worry that their heel (rubber, rounded) and height (the dreaded midcalf) would spark a trend, or rather that it would re-spark one, considering those are footwear accoutrements from which I ran screaming ca. 2001.
But of course, in the inevitable cyclical demand for trends, we are at present careening towards the revitalization (or regurgitation) of early 2000s fashion, god bless, and with the inevitable return of the smokin' hot low-rise jean/exposed thong combo on your lower extremities comes the resurrection of that rounded heel and toe on a boot that recalls fashion's flirtations with exciting fabrics such as Lurex and blends of Lycra, nature's precious resource!!
It is this style of boot that has come to pass in the latest slog of pre-fall collections courtesy Issey Miyake, a designer who almost certainly had Star Wars's iconic linen mummy swag in mind while designing pre-fall 2016. Inadvertently, he also stumbled upon a vestige of Y2K fashion—a sliver of its memory, at least—with soft boots and draping perfect for traipsing around Jakku (which is basically Tattooine).
G/O Media may get a commission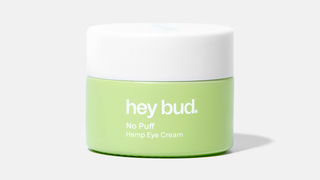 15% off
Hey Bud - No Puff Hemp Eye Cream
Though the galaxy print has been many times—most notably by Christopher Kane and Rodebjer, whose respective 2011 designs launched a thousand knockoffs—Miyake's take on the Milky Way is painstakingly hand-dotted, an imaginative starry sky that perhaps shares its fantastical vision with that of George Lucas. Both seem to say that space is infinite, so where's the harm in making some shit up? In Miyake's vision, full of contrasting prints and, of course, a phalanx of pleats, the modern-day, real-ass walkin' around "Rey" is thoroughly decked in queenly round frocks and optical illusion shifts that she can use to throw off her enemies. (Does The Force work better when your enemy is mesmerized by your ensemble? Super important question of the ilk that flowed through my brilliant brain during The Force Awakens.)
Granted, part of Daisy Ridley's drapey linens (designed by Michael Kaplan) were functional—they had to be light for a desert climate and flexible for rappelling into giant abandoned ships to forage for parts—but these are, too: breathable, layerable, roomy and warm for the pre-fall era, a time as nebulous as the print on those trousers. While I still feel a little apprehensive about those boots—I'm getting flashbacks to a pair of snubnosed Prada mary janes I wore through '99 and Y2K (hand-me-downs from a friend), which had a velcro-closing snap and made me feel sooooo tech-y—I would wear any of these other garments all the livelong day. And, fuck it: like the tattoo choker and purple-brown lipstick, I'll probably come around to the shoes (for the second time) eventually. Goddammit.
---
Contact the author at julianne@jezebel.com.
Images via Issey Miyake