One Saturday night, at the Bell House in Brooklyn, Issa Rae stood in front of a room full of black people and told stories about ratchet rap. An extension of her RATCHETPIECE Theater video series, the show served as an homage to the rap songs essential to her youth. It took place two weeks before the premiere of her HBO series Insecure. On stage, dressed in simple jeans, a t-shirt and short bomber, she reminisced about old-face Lil' Kim and Hard Core, where Issa "first heard the melodic sound of a vag being eaten," she told the crowd. She ragged on Silkk the Shocker's offbeat style of rap, praised Crime Mob's Diamond and Princess, and paid tribute to Miami rapper Jacki-O ("She really introduced me to the world of vaginal pride"). To the uninitiated, these unsung names sound obscure, but not to those who listen to and appreciate rap beyond the obvious suspects. Issa Rae chose to speak through them.

At the core, Insecure is a show about a black woman's internal and external expressions; it's an exploration of pre-30s crises involving love, work and friendship, with familiar conversations that take place in clubs, restaurants, pharmacies, workspaces and venues where black people miraculously happen to exist. More broadly, it's a series that presents black trends, jokes and ideas in ways that the culturally oblivious white people among us might view as "Black Twitter" personified, aka a series with black people in it that concerns things we talk about and do in real life. As much as the show reflects the challenge of being visible, it's merely the story of how one black woman lives, whether you choose to see her or not.
These slices of life materialize through the voices of two black women in L.A. One is in a broken long-term relationship (Issa Rae, also named Issa on the show)—she raps to herself and binge-watches a reality show called Conjugal Visits. The other is her best friend Molly (Yvonne Orji), a single professional trying not to be a dating statistic. Issa refers to her as the "Will Smith of corporate."
Fans of The Mis-Adventures of Awkward Black Girl will notice familiar traces of that YouTube series here in the raunchy, underdog tone (Issa self-describes as "aggressively passive") and in its presentation (Issa frequently raps in the mirror), but Insecure generally comes across as less awkward. There's a balance of frankness and absurdity that the show stumbles a bit to convey in the pilot before striking the right chords (the humor makes up for some of the weaker plot lines) over the next five episodes that I watched via screeners provided by HBO. (Though it premieres this Sunday, October 9, HBO made the first episode available to the public early.)
G/O Media may get a commission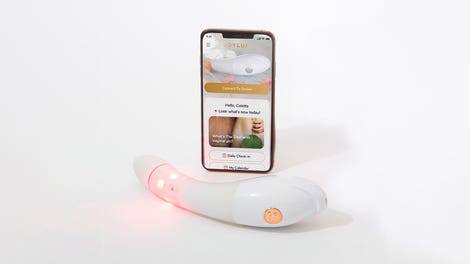 $50 Off
Joylux vFit Gold Device
The pilot opens with Issa in a classroom on her 29th birthday, responding to questions from kids who crack jokes about her clothing and marital status. As the story opens up, we see her fumbling through a relationship with her jobless boyfriend of five years, Lawrence (Jay Ellis), and feeling the weight of having to provide for him amid distractions from her hot ex Daniel, better known to Molly as Issa's "Achilles dick." In what some might consider an atypical flip on infidelity, Issa is more prone to temptation than her dude.
Of all the dynamics, it's the conversations between Issa and Molly about work and love frustrations that resonate in the most distressing way—"I promise Jesus isn't conspiring against you and your pussy," Issa tells Molly over dinner. This is a world where the topics up for debate feel both universal (online dating, the merit of college degrees) and insular to black people (secret white meetings, top-five R&B groups, "hotep niggas" and code-switching).

What's most refreshing among these all-too-real conversations is Issa's navigation of oppressive workplace culture and her effort to remain composed among her white coworkers when one of them, for example, suggests a community service program that she says sounds like a chain gang. Or when another asks what "on fleek" means. "Let these white people doubt me again. I'ma throw a kid in they face," Issa jokingly threatens, after one of her ideas is ill-received. The frustrating micro-aggressions she faces, rare and comforting to see on television, come across both ridiculous and true. Seeing them makes me recall experiencing them. Years ago, I worked in a predominantly white office and returned from the bathroom to see the book Making Friends with Black People on my chair.
For its soundtrack, Insecure makes the smart decision to cradle its discussions in less mainstream sounds of blackness (Issa Rae expands on this in the video interview above). Issa's perspective is viewed through the filter of rap (the pilot opens with Kendrick Lamar's "Alright"), and specifically dirty rap from women. The same episode features TT the Artist's "Lavish," a song that contains this beautiful line—"Got a nine inch dick that'll fuck ya mind up"—and ends with JunglePussy's "Bling Bling," song selections that reflect Issa's blatant love of ratchet. Songs like D'Angelo's "Back to the Future," Bosco's "Gold Ghost," Kali Uchis's "Ridin' Round, Erykah Badu "I Been Goin' Thru It All" and Kari Faux's "Lie to My Face" in other episodes sound like the fabric of Issa's musical vision board. That Raphael Saadiq composed the music and Solange served as music consultant makes complete sense. I think about how oddly refreshing it is to also see a black woman so freely and organically use "nigga" in conversation on TV, which never happens to this degree.
One downside to TV's push to make inclusive programming the new normal is the concern that black shows might only be considered good, and thus graded on a curve, simply because their existence is a rare feat. That is not the case here. Though inherently relatable in its themes, Insecure is devoted to its narrative of black life in L.A. and, in many ways—finally—feels like an exclusive club.