Clicking through Isaac Mizrahi's first collection for Liz Claiborne, I thought, Nice, Nice, Preppy, Nice, Cute, Okay, Nice, Whoa Print, Okay, Nice, OMG Shirtdresses, Fine. Wait! What were those shoes, again? They look like...
...Those other shoes by that totally different and much older company!
I have a thing for Belgian Shoes. They're cute, they're handmade, and the rubber soles make them as comfortable as slippers. The company's most well-known shoe is the "midinette", which is available in a distinctive color palette of brights and pastels, and which has an iconic loafer style with contrasting piping and a little bow on the front. Best of all, even though they're supposed to cost like $300, sometimes you can pick them up in thrift stores for pennies because people don't immediately know what they are. Belgian Shoes are fine makers of classic footwear, but their brand awareness is hardly that of a Gucci or a Ferragamo.
Which might be why several of Isaac Mizrahi's new shoe designs for Liz Claiborne strongly resemble Belgian Shoes' Midinettes. In Looks 6 and 7 from the collection, there are loafers with the same piping, the same undersized bow, the same colors, and a very similarly shaped toe. (In a couple of the other looks, there are pumps in the same style — although Belgian Shoes doesn't make any heels.) But don't just take my word for it:
Loafer from Isaac Mizrahi for Liz Claiborne, price not yet available:

G/O Media may get a commission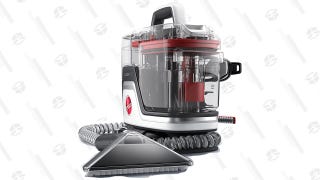 Save $10
Hoover CleanSlate Plus Carpet & Upholstery Cleaner

















(Excuse the small pictures, this is the closest look I could get.)
Midinettes by Belgian Shoes, $295:




















































Uncanny, isn't it?
Isaac Mizrahi For Liz Claiborne Lookbook [Liz Claiborne]
Belgian Shoes Midinettes [Belgian Shoes]