An in-depth conversation about toothpaste is happening and you'll want to get in on it.
Consumers (on Twitter) have officially confirmed that Crest Pro Health is "the worst" toothpaste to use. Why? Because its ill-designed cap leaves the tube susceptible to leakage. The Pro Health cap, you see, is nothing like the traditional twist-off caps we're used to. This horrific issue was brought to my attention through a tweet from former Gawker writer Caity Weaver.
One particularly vexed person on Twitter who's had it with this toothpaste wrote: "Last tube of @Crest I buy in our house until the cap is redesigned. Feels like it was designed to leak toothpaste."
G/O Media may get a commission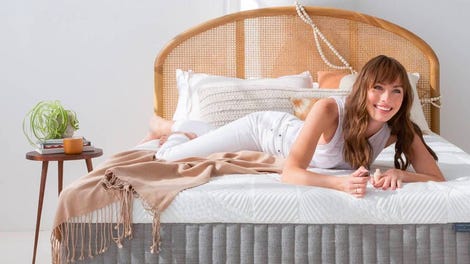 Sleep Sale
Sleep Sale - Brentwood Home
Are you one of Pro Health's victims?

It's true that the cap on this toothpaste feels like it's designed to fail you, much like an adult son. I feel your pain, though I have rarely had this problem with Pro Health and I use it regularly. I feel like there's more to this story, though. And I suspect there are some solutions to the leakage displayed in the photos below.
How does this happen?
Does this happen to you?
Hmm...
Seems like this happens quite frequently, so let's investigate.
First, does anything stick out to you about the pictures above? Do you notice any similarities with the toothpaste tubes? I'm looking and I see an issue. The tops are all open. There you go. That's my first solution.
Have you tried closing the top after you use it?
I see something else, too. The distorted shapes of the tubes indicate to me that people are squeezing their toothpaste tubes willy nilly instead of from the bottom up, which is the suggestion written on most toothpaste tubes. Given the fluid nature of this particular toothpaste—it's incredibly liquid-y—that might be a poor strategy. Perhaps gravity is getting the best of you.
Have you tried not squeezing the toothpaste so hard?
One other thing. It appears that consumers, given how deeply frustrated they seem with this toothpaste, are continuing to buy the same toothpaste? Is that a correct assumption? Well, one solution is this: Next time you're going to buy toothpaste, buy a different toothpaste. There's Colgate, Arm & Hammer and there are also a number of toothpaste brands that use different caps that don't look like this one.
So, have you tried buying a different toothpaste?
I have one last solution. Please keep in mind that these are suggestions. I'm not saying you're a monster—you're probably not. The intent is not to diminish your pain. I could be wrong. I could be right. I could be equal parts right and wrong. But consider this. When you're going to buy new toothpaste, do you stop for a second and remember how much you hate the cap on Pro Health? Do you think to yourself: "Don't..."
Have you tried not buying it?
I hope this helps. Solutions aside, though, there's no reason Crest should be placing people in such a painful position in the first place.