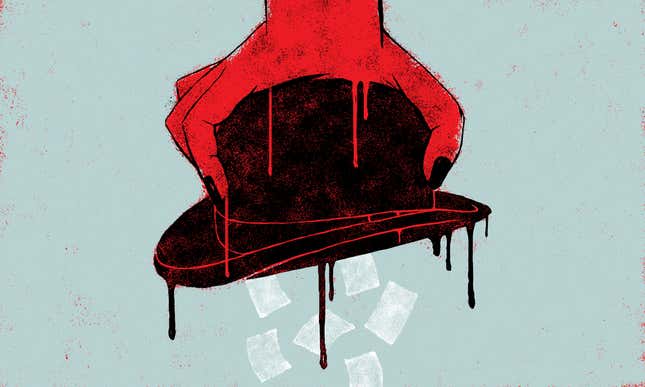 In public, everyone says that Thomas Sayers Ellis, 52, formerly of Case Western and Sarah Lawrence, a visiting professor at the Iowa Writers Workshop this semester, is brilliant. Even the people who find him off-putting and unprofessional tend to agree. He's charismatic and surprising, a protest poet, a real intellectual, unafraid to cause alarm. His style is enjambed, urgent, and rhythmically afire; in the late '80s, he founded the Dark Room Collective to promote writers of color, and he's been known as an activist ever since. He attracts women; several women I talked to said he had "groupies." But in late February, a group of women came together to say that he's abusive, that he preys.

Their accusations, collected and published anonymously by the advocacy organization VIDA, sent the administration and many students at the Iowa Writers' Workshop into private crisis. The program has a history of male poets becoming involved with students; a repetition of that history—let alone a worse version of it—wouldn't do. Immediately after the VIDA post, Ellis's classes were canceled, and by the time spring break was over, the week after the post went up, he'd been unofficially replaced.
The accusations against Ellis portrayed him as a familiar sort of figure. The story of the important, inappropriate literary man is so common and entrenched as to feel depressingly unremarkable. Women often circulate warnings about them in private, never sure what to do: they talk about incidents that are disturbing but often shy of criminally reportable, and they distribute warnings via hearsay, and they tell you they wish they, or their friend, or their friend of a friend, had known to stay away. There's the grabby lit mag editor, the wildly volatile critic, the author you hear once hit somebody, the professor who every year dates a first-year grad student and manages to send her reputation, not his, into the mud. In terms of artistic value, this man is often phenomenal, the type that can define and support an institution; in terms of his effect on half the women writers he encounters, this man frequently adds up to shit.
The cultural landscape is set up ideally right now for women to speak out about this. Privilege and rape culture are phrases in common parlance; sexual inequity and assault are seen (finally) as an epidemic; social media allows whispers to grow into flames.
In the most prominent recent example of testimony and catharsis becoming semi-official allegation, multiple women publicly accused the "alt-lit" writers Stephen Tully Dierks and Tao Lin of rape, abuse and coercion in October 2014. The woman who first accused Dierks gave him a pseudonym on Medium, which other women on Tumblr linked to Dierks's real name; Lin's ex-girlfriend E.R. Kennedy (formerly Ellen, he now identifies as male) tweeted a story of rape that was picked up by Tumblr, "liked" by 7,000 people in a day, and noted by dozens of publications, including Jezebel.

Kat Stoeffel wrote about the accusations thoughtfully at the Cut:
Now women are speaking up about situations that fall outside the conventional definition of rape but nonetheless reflect a gender power dynamic that leaves women sexually vulnerable. Katz never used the word rape, but her essay spells out many of the reasons women have sex when they don't want to. There's baseline need (she had nowhere else to stay), physical intimidation (he was on top of her), and, most insidious, a deeply internalized sense of obligation.
Stoeffel's piece was titled "It Doesn't Have to Be Rape to Suck," and addressed one of the most fungibly interpreted aspects of this informal pursuit of justice. Why are women talking about, and accusing, the important and inappropriate literary man? To ruin his reputation? To remove him from employment? Not as a priority, Stoeffel concluded, and to my eye accurately. "What it seems most women want," she wrote, "is to warn other women about a category of jerk courts have no name for: a guy who can't be trusted not to exploit his power over her."
But at some point, personal responsibility (validate women's experiences, keep your loved ones the fuck away) bleeds into institutional responsibility (tell your friends to fire him, to refuse to hire him, to boycott his class). What happens when the guy in question is employed by the Iowa Writers' Workshop, the most prestigious prominent writing program in the country? In Thomas Sayers Ellis's case, the stories about him have ultimately (if unofficially) removed him from his post. His case seems to suggest that we've arrived at a new stage of this era. The important, inappropriate literary man is going to face his retribution. Or at least, certainly, the literary community is poised to bring him to some end.
---
The first person to say anything about Thomas Sayers Ellis was Larkin Grimm, a vocalist and songwriter, who played with him in the band Heroes Are Gang Leaders—a collective of poets and musical artists organized by Ellis in the wake of the poet Amiri Baraka's death. On February 25, Grimm wrote a public Facebook post, claiming that a different man, Michael Gira of the band Swans, had raped her, and that what had prompted her to bring it to light was the fallout from an incident with Thomas Sayers Ellis.

"I experienced a traumatic incidence of sexual harassment in my band Heroes are Gang Leaders on February 6th and 7th," Grimm wrote, in a note that's now been aggregated or linked to on essentially every website that covers music news. "The band leader, Thomas Sayers Ellis, threatened to hurt me further if I called him out publicly," she claimed.
So I have spent the last few weeks thinking it over, looking at my options. Many cases like this have been shared on Facebook and twitter lately. I do not believe in Facebook witch hunts or mob justice, and that is why I decided to take this issue to a government agency. [...] It turns out musicians cannot file a complaint with the Equal Employment Opportunity Commission because we are freelancers. Maybe this is why rape, assault, and sexual harassment are so common in the music world.
The EEOC rep, Grimm said, "urged" her to "see if there is anything you can do to help us protect women like yourself." Prefacing her statement with "Twitter justice is not justice, y'all," she continued:
I saw this man, whose sexual advances I had been calmly brushing off for months, abuse his girlfriend in front of 12 band members at Rutgers University in Newark on the night of february 6th. I went to speak to him afterwards wondering if he had gone insane. This was a man I loved and admired. The next day, I was publicly humiliated in front of our audience at The Firehouse in Brooklyn on February 7th right before the show, verbally abused and threatened, and kicked out of a band that I loved. Both these events had many, many witnesses.
The post was aggregated by Brooklyn Vegan on the same day Grimm posted it, and it quickly made waves in the music world. That story—concerning her statements about Gira, not Ellis—was aggregated by the Guardian, Billboard, the Village Voice, Stereogum, Spin, and many more.
The same day, Gira wrote on his Facebook page that Grimm's account was a"slanderous lie"; through a spokesperson, he called the incident in question an "awkward mistake." Grimm sent Pitchfork a response, saying she had been incapacitated at the time of the encounter: "In a gentlemanly move he admits the act happened but cannot conceive of himself as a rapist. Thank you Michael Gira for your honesty. This is your truth as you remember it. Unfortunately, this was still rape."
---
The truth, for a long time, was that no one wanted to listen to rape accusations. That still holds in many institutional contexts, but the world of media (starting with social media; search #BelieveWomen, and look at how these accounts spread now) is listening up. Grimm's account was aggregated widely. And as it went bigger, the literary internet, which moves a few degrees slower, had seen Grimm's passing mention of Thomas Sayers Ellis and taken note.
Ellis, again, is a unique figure. In interviews, I asked a dozen women who have known Ellis in various ways to describe him: they said "genius," "egomaniac," "atypical," "extraordinary," "punishing," exclusively extreme words like that. Within contemporary poetry, his reputation is large enough that several people I talked to said the phrase "cult of personality"—large enough that Ellis feels comfortable, according to a current student, referring to himself in third person during class.
Respected men in the literary community are still almost never challenged in the open about borderline or far-over-the-line behavior; when they are, women respond with a pent-up force that feels electric. It's part of the reason Claire Vaye Watkins' Tin House essay "On Pandering" was received with such gratitude and fervor: in it, she called out Stephen Elliott of The Rumpus for trying to get in her bed and then belittling her for it in his public newsletter. "I'm not presenting Stephen Elliott as a rogue figure, but as utterly emblematic," she wrote. Larkin Grimm had done this for Ellis, and so a group of women writers decided to act.
The week that Grimm's Swans accusations were breaking, 11 women collected their accounts of varyingly intimate interactions with Ellis. Requesting anonymity, they sent these stories to VIDA, an advocacy organization best known for the VIDA Count, which tallies up the aggregate presence of women writers in major magazines at the end of the year.
"After Larkin's thing, they were like, 'You know what? As a matter of fact, I have something to say on this too,'" said a woman with knowledge of the situation, who knows Ellis through the residencies and conferences that delineate the literary circuit. She had no account to contribute; Ellis is an "intense person," but she's never been harassed by him, she told me, and she doesn't like the idea of "allowing yourself protection that you're not allowing the person you accuse."
Without contacting Ellis, on March 6, VIDA published the accounts as they were submitted, titling the post "Report From the Field: STATEMENTS AGAINST SILENCE," and prefacing the women's stories:
The following sample of de-identified disclosures are from women who have experienced traumatic interactions with a respected literary arts community member. In the recent weeks, we have learned the extent of his violations — a system of disturbing sexual and professional misconduct within and beyond learning spaces. The damage reaches back much longer than one decade and stops today.

[...] We begin our efforts with these disclosures of interactions with Thomas Sayers Ellis. We appreciate these women's strength in putting their stories in strangers' hands.
Within hours after this post went up, a dozen people I'd met through my MFA program had linked to the article on Facebook. As I read it, I felt increasingly surprised, and worried.
It wasn't—and whose fault is this—the content of the stories: working at Jezebel and having spent much of my post-college time in one writing-centric community or another, it is unsurprising to me that any respected man in any enclosed community would be accused of being abusive, inappropriate, a creep. And it's also worth mentioning that, while all the stories describe some sort of distressing behavior, not all of them describe violence, and the "de-identification" means that crucial potential incriminating factors (a student-teacher relationship, an institutional context) are completely obscured. The first entry calls Ellis "predatory" for lying to the writer about recommendations and giving off bad "energy," and the last VIDA entry is a diary detailing a consensual relationship that ends in slightly uncomfortable sex. "He hurt me kinda yesterday, rushing," the writer said. (When I asked about the last entry, Amy King, on the VIDA executive board, wrote back, "We felt [the entries] illustrate the evolution of giving over power, of how manipulation evolves.")
Rather, I was surprised at the gap between the aim of VIDA's post, which is unimpeachable, and the execution of the post, which was—if you expect it to stand journalistically, which they told me repeatedly that they don't—flawed. I was surprised by the words they used, too: "de-identified" for un-vetted and impossible to corroborate, and "strength" for something I'm still trying to figure out. "Strength" can work as both a feminist and literary tautology for the plain act of speaking. But the logic involved can get imprecise. When we've called women strong for speaking out about trauma, it's often been because doing so has traditionally, and unfairly, been as difficult as (or more difficult than) enduring the trauma itself.
What we're encountering here, however, is a sea change. It is a new thing that a woman could type out her story anonymously, attach it to a public figure's name, and know that an organization with a respected platform would accept it without context and publish it like this:
He said let me fuck you there. One day I will fuck you there. I said from there, on my body, things go out, not in. I said no. He said you are mine. He said I worship you. He is not small. I screamed. He said it was an accident. You know it was an accident. Right? I kept silent. After the scream. [....] He paced barefoot in his accident speech in his unzipped khaki pants. Words bled from his mouth. Accident, accident, accident. I love you. I bled and cleaned and shook. I think it was late fall. Bald trees and pale gray sunlight. I bled in my silence and it became a flat rage. I put up my hand and he finally shut. Up. I went silent except to grow cold over days to let him go. He said I love you. I had nothing to do but try to reconcile love and bleeding.
This type of writing can be essential as an act of artistic catharsis, but it has never functioned as official denunciation—as it did for many women who had been waiting for it, and in practice, for Iowa too—until now. VIDA did not ask us to hold their post to a journalistic standard, but they wanted the post to stand with journalistic strength. And they are not alone in blurring the line between activism and journalism.
After a similar incident in January in which multiple women tweeted sexual assault claims against the music publicist Heathcliff Berru, Brooklyn Magazine aggregated the tweets speedily; the post's author, Caitlin White, tweeted that she "broke" and "reported" the story, and that publications that hadn't re-posted those tweets were disrespecting the women's stories, or actively doing harm. (Some publications, Jezebel among them, were "late" because they were reporting, which takes longer; Berru has since resigned from his post, and denies raping or drugging anyone, but called his behavior "disgusting" to BKMag.)
A month later, White published another BKMag piece "exposing" a man with 238 Twitter followers, whose arguably broadest claim to fame had come from the magazine itself listing him on its "30 Under 30 Envy Index" the previous September. The piece, which went up February 22, is a collection of allegations of sexual assault about him, all contextualized but anonymous, except for one.
Our awareness of the prevalence and magnitude of sexual assault has outpaced the systems that expose and adjudicate it. It's incredibly difficult to match these two things up. But for activism to carry the authority of journalism—or for journalism with an activist conclusion to work—there are basic practices that can't be set aside. Noble goals can be quickly rendered immaterial: Rolling Stone should've been enough to teach us that good intentions—that "believing women"—can end up hurting them dramatically in the end.
And believing a woman, anyway, isn't the same as supporting her. Supporting a woman means strengthening her position, and the women who spoke to VIDA have been presented on shaky ground. The poet Sandra Beasley wrote on her blog: "There's a possibility that the manner in which testimonies are gathered means that their circulation sparks a really important conversation—but then, ultimately, limits it." She added, "That doesn't mean that I doubt the veracity of these testimonies."
In fact, the more seriously you take the VIDA stories, the more regrettable the method of their publication becomes. There is no correct way to process trauma—let's be clear about that. There are, however, best practices for taking someone down. The latter, which was VIDA's stated goal in their post, requires precision of language. A rape accusation that is supposed to strip someone of their power cannot be written creatively "for effect." Let's say you truly believe a man like this is dangerous. Say you want to get him out of his prestigious teaching position. Do you write an anonymous account about blood and trees and sunlight? Or do you contact someone in a position of power, confirm their protection of your privacy, and write down, as clearly as possible, your account of anal rape?
---
I called Larkin Grimm, the woman who started the conversation. Again, she's a musician, and relatively separate from the MFA world; it doesn't seem coincidental that she's the only woman thus far who's willing to attach her full name. In the month since she wrote her Facebook post about Gira and Ellis, she says she's consistently received threats, including death threats. "People saying I had something to gain by telling the truth have no idea what it is like," she says. I also reached out multiple times to Ellis for comment while I was reporting; he declined to speak to me about any aspect of this piece, so this is Grimm's account.
Grimm and Ellis met two years ago, on an Amtrak train from Chicago to San Francisco. Both Ivy League alumni with "similar concerns about how race is handled in society," they hit it off immediately. Ellis, a photographer, took photos of Grimm; she invited him to have dinner with her family; soon, he asked her to join Heroes Are Gang Leaders.
"He was making an effort to include women's voices, which I really appreciated," Grimm told me. "I felt so good about being in this band. We had almost an equal number of women and men, and it was a wonderful escape from the whiteness of indie rock. And I hate that it's all crashing and burning."
By Grimm's account, the trouble started when she and Ellis both started to play middleman roles in each other's relationships—made more complicated by the fact that they were now bandmates, as well as both dating other members of the band. Grimm says she took issue with the way Ellis treated his girlfriend, crossing physical boundaries in a way that she says made the woman fearful, and "publicly berating her until she shut down." (Ellis's ex-girlfriend has strongly disputed Larkin's account, writing on the band's Facebook page: "Clearly Larkin Grimm is not well. Mental illness does not equate with dishonesty. However, in Grimm's case, both are active to the detriment of my colleague and former life partner, Thomas Ellis's reputation and career." She, along with other members of the band, politely declined to talk to me.)
Involved both professionally and personally with Ellis, then, Grimm detailed a pattern that multiple women have described to me in similar words: increasingly forward emails, requests to photograph her, an escalating need to control her creative production, repeated denunciations of other women and other writers, and sexual jokes that she felt were harassment. Grimm brought up a long text that was written like a poem—a habit several people mentioned—which she said mentioned his penis.
"I wrote back, like, 'WHAT?' He told me that it was an accident; it was for somebody else. Well, I've never sent an accidental long poem to anybody over a text message." It made her uncomfortable, she said; they had to work together. And then, by her account, he started asking her to "wear certain things to recording sessions, because he wanted to photograph me in those things." Grimm noted that she appreciated having good photos of herself. "But that kind of attention was not always welcome."
Grimm left the country, staying in Nepal for a couple months, returning shortly before the incident she wrote about in her Facebook post, when the band played a gig in Newark on February 6. As Grimm tells it, Ellis and his then-girlfriend got into a physical fight backstage, which she heard but did not visually witness: "There was screaming, they were moving from room to room, stuff was getting thrown around." The woman came out in tears, says Grimm, because Ellis had smashed her phone; the band was shaken, but they played the show anyway, as the fee was $600 each.
Afterwards, according to Grimm, a band member tried to remind Ellis why he'd formed the band in the first place, "to celebrate the poetry of Amiri Baraka." Ellis then brought up the fact that Baraka had himself been jailed, in 1979, for beating his wife in a car. In other words, as Grimm put it: "There's a precedent for this."
---
Precedent may be too light a word for the long history of troubling behavior from powerful men in creative fields. "Tradition," maybe, is closer. I have encountered this "tradition" many times myself, both from men in the music business and men in the business of literature (the latter being the former's shabbier, often trickier twin). At their shittiest, both types of men have a partially sincere, partially predatory appreciation for "sexy female weakness" and its creative expression. (Youth is often taken to be a sexy female weakness in itself.) Both types of men have propositioned me in professional settings, subtly and explicitly. Every incident made me feel demoralized about my own abilities, and bad.
Every woman I spoke to asserted that Ellis—attractive, accomplished, charismatic, uncompromising, male—reaps the benefits of this tradition, at least implicitly. But this tradition, or more specifically the long-buried, justifiable indignation that women have developed in response to it, is exactly what's reared up to bite him now.
Whether or not you think that's fair likely correlates to how recently you've had a man in literature take advantage of his power over you. And the Iowa Writers' Workshop in particular, according to a dozen current and former students I spoke to, has a solid history of male poetry professors dating female graduate students and—according to women who had no words to mince about this—behaving in misogynistic ways. A former student told me, "What I find interesting about the situation with Thomas Sayers Ellis is that, because of this VIDA article, the administration is being forced to pay a little more attention." She brought up a poetry professor who'd been on staff when she was in the program: "It was at least equally bad in his situation, but they swept it under the rug."
In interviews, multiple women with current or recent professional ties to Iowa independently brought up this prizewinning and respected poet, who no longer teaches at the program. As they detailed it, he had an affair with a student shortly before leaving his professorship, and everyone in the program knew. And while institutional policy varies on professor-student relationships, particularly in graduate programs, the effect on the women I spoke to was inhibition—a quiet sense of being undermined by the suspicion that success is achieved through sexualized means.
I talked to a woman who asked for anonymity because she's still associated professionally with the University of Iowa. "When I got to Iowa," she told me, "I was like, who the fuck are these people? And where are the adults? Shortly before I'd gotten there, [the poet] had made out with a student at a party, in front of everyone." She noted that the program's funding structure, which is infamously competitive, made professor-student affairs even more fraught. The female student in question got a competitive fellowship and a place in this poet's workshop, and many students felt that this was blatantly wrong.
Later in her first semester, the former student said, the university held a mandatory sexual harassment training seminar (it was schoolwide, and unrelated to the rumors in the department). Everyone in the program was brought into the library on a Monday afternoon, right before the poetry workshop of the professor in question. "Students started asking questions about him, right in front of him, to the lawyer. A student raised her hand and said, 'What if there's a professor on faculty right now who's sleeping with a student?' The lawyer said, 'Well, then you should come talk to me.'"

Soon afterwards, the poet left the program voluntarily. When I reached out to him for comment—leading with an apology, like a good young woman—he wrote me back: "This was a pernicious and virulent rumor and if you insist on propagating it, I will sue you. Show some professional restraint." And indeed, the affair in question may have all been a rumor; I wasn't there, and the dozen current and former students who told me their impression of it aren't him. Nonetheless, the story is entrenched program lore, and it is the reason that the Ellis allegations are now being received the way they are.
According to everyone I spoke to, the department's sympathy appeared to lie with that poet—as did many of the students' sympathy, particularly the men. Even a decade ago, an affair with a student was not seen as widely distasteful. But the stories about Ellis are arriving in a different climate: one in which we know what harassment is, in which a lot of industries feel ripe for a reckoning, in which social media has worked as a megaphone for people whose protests would have otherwise been ignored.
The week that the VIDA post went up, Ellis's workshop students, as a unified group, boycotted his class. They went to a student's house instead, to discuss what to do. "There are some people who are really legitimately shaken," said a student in Ellis's other class, a seminar on conspiracy theories. "They're concerned about being in this really personal space with a known harasser."

But is Thomas Sayers Ellis a known harasser, or an alleged one? How much has VIDA, or its audience—with the best of intentions—flattened the space between the two? I talked to three other women who had been students of Ellis's outside of Iowa. They all said he made people very uncomfortable in workshop—and that, furthermore, they appreciated the intellectual and creative challenge this gave them. One said that this state of productive discomfort was "exactly how things should be." Another said that her many one-on-one experiences with him were "always unnerving, but I never felt unsafe." Another wrote to me over email:
At no time did he interact with me in a sexual, sexist, predatory, or misogynistic manner. At no time did I receive an inappropriate amount of communication from TSE nor did I receive any messages or emails that disturbed or alarmed me on the basis of tone, content, or frequency. My experience in the classroom with TSE contributed to my becoming a more confident writer, while constantly developing my critical eye.
There is a degree to which—at least within the institutional context of Iowa—VIDA has positioned Thomas Sayers Ellis as a stand-in for the "litany of men in academia and the writing world who are creeps," as his current student put it. She named other two men who teach in the Writers' Workshop: "Don't expect them to give you any consideration if you're not a straight white dude, or a woman who writes graphic, sexual poetry." A former Iowa student pointed out that these men had married former students—as did the professor whose story is referenced above. "It's so gross that they treat their grad students like a dating pool," she said.
This is another situation where awareness has sped far ahead of procedure. And in a few arenas, I think procedure should not be expected to catch up. If MFA programs disqualified people from employment or admission because of their predictable aesthetic preferences, the entire system would crater in. A healthy institution cannot and shouldn't create codes dictating attitudes, priorities, vibes in the classroom. What they can and should adjudicate are actions: documented harassment, for instance, or a teacher-student affair.
But there is no proof that Thomas Sayers Ellis has done any of this during the time he has been teaching at the Iowa Writer's Workshop. There appear to be no open allegations about his behavior during this period, though the department solicited them. After the VIDA post went up, a secretary in the department sent a student a message that was passed on through a general listserv, opening her email up to "anyone has experienced or paid witness to an inappropriate experience with TSE."
The workshop declined to comment on any part of this piece, citing an inability to speak on "personnel issues." In the week following the VIDA post, the Office of Strategic Communication wrote, in an email to me, "The allegations are concerning and we are looking into the situation. We will proceed in a manner that is respectful to all parties." (The allegations mentioned here appear to be VIDA's, exclusively, by unofficial but unchallenged account.) The communications director pointed me to Iowa's institutional policies, which are typically vague on both consensual student-teacher relationships (they are "prohibited" in theory, but adjudicated in any number of non-ways) and sexual harassment, whose procedure section is dizzying.
So Iowa had the latitude to proceed essentially however they wanted to, which doesn't mean there was an obvious way to proceed. The situation opens up a series of questions that remain open: Should you terminate someone's employment if a website publishes a series of anonymous allegations against him from deliberately impossible-to-confirm points in the past? Should an institution simply trust the odds that women's unconfirmed allegations tend to be true? Will those odds change if this type of takedown becomes widely viable?
And further—and I have asked myself this, and come to no good answers: What do schools do if a student feels uncomfortable about her professor based on unofficially reported warnings? Do they dismiss the professor? Move the student around to another class? At what point would an employer begin to have a legally sound case for official dismissal? What if the professor in question were reportedly terrible enough to an ex-girlfriend that she'll get on the phone with a stranger, late at night, barely able to breathe straight, holding back tears?
---
Here's the central complication: In creative fields like writing and music, the boundary between personal and professional is thin. Your personal life is expressed in your professional output; your professional connections within your industry are likely your closest personal connections, too. And so, the boundary between personal misconduct and professional misconduct remains logistically fluid. The ex-girlfriend I spoke to was a fellow poet, a respected, credentialed, widely published one—a woman who had met Thomas Sayers Ellis through her work. Her voice broke when she said she was afraid to tell me the year she met him. "If I say anything like that, I'm scared that he'll know it's me."
Again, this is her account, as Ellis declined to comment on the story after multiple rounds of contact. She detailed a pattern of escalating emails, then a few months of a whirlwind relationship that turned "demanding, and violent." I asked if she meant emotionally. "Sexually, too. He would be gentle at first, and then go over the line. And he would just say how much he loved it, and you would wonder what's wrong with you that you're not enjoying this thing he says is so good." She views these encounters, she told me in later conversations, as rape.
When she read the VIDA post: "I went to therapy," she told me. "My therapist called it 'vicarious trauma.' With all of those stories, and with the Larkin Grimm thing, I thought, that sounds exactly like Thomas. I had no trouble believing any of the women. There is no mistaking him."
I asked her what she would say to a young poet who had Ellis in workshop, who was thinking of him as a professional mentor. Her voice, shaky up till that point, grew urgent. "I would tell her to run away screaming from Thomas," she said, "and I would ask her if she needs help. I would tell her to stay the hell away from him at all costs. Our world is so personal, and our work is so personal, and he takes advantage not only of his authority, but of people's confidences and their vulnerability."
Finally, I asked her whether she thought the language currently being used to describe Ellis was accurate. "Yes," she said. "He's an abuser. He hurt me. We went to a writers' conference, and I kept telling him I didn't want to do something, so he pushed me in a closet and tried to have sex with me in the closet, and he kept grabbing my breasts and I kept saying no and I had to scream to get him to stop." She took a deep, shuddering breath, and couldn't speak for a minute; my own heart caught in my throat.
"He didn't just do it one time," she said, after a little. "He was untouchable, or he thought he was. But that era is over, for all those guys."
I think she's right on that last point, and thankfully. Finally. But I wonder if we have a clear sense of what here can be adjudicated, and how.
Some of what is being alleged against Ellis is criminal. What some women are talking about—including the woman I spoke to above—is physical and sexual assault. If these allegations are unreported and un-investigated, or alleged in public but anonymously, then the personal methods of holding someone accountable start to diverge from the institutional ones. You can denounce someone personally based on deliberately "de-identified" hearsay, but can you fire them? As an institution, without a corroborated or formal report, can you say anything at all?
People have tweeted at Sarah Lawrence, asking the school to issue a statement (presumably) condemning Ellis. "Have you been reading or nah??" one writer tweeted, to which the college replied: "We are concerned by these allegations but have no record of complaints from the time he was on our faculty several years ago." The writer replied again: "Will the college make a statement?" But the type of denunciation they are looking for, from an institution like Sarah Lawrence, is not legally permissible without a report on the record. The two most prominent outlets that have collected signatures in solidarity with the women who spoke to VIDA do not even mention Thomas Sayers Ellis by name.
After the point of institutional responsibility, it gets even blurrier. Almost everything in the VIDA stories makes Ellis sound reprehensible—but reprehensible is not against the law. Nor does it seem to be a universal experience with him: An ex-girlfriend who asked we only identify her by her intials, K.K., lived with him for several years with a young child in the house, and talked to me on the phone for a half-hour about his unqualified kindness to her: "The VIDA post was in complete contrast to my experience. It was entirely different from what I knew."
And some of what is being called traumatizing about him is related to his personality. These women say Ellis is harsh, critical, uncaring in the face of another person's discomfort. These qualities are bad in a relationship; they are warning signs in men, and they are central to the dynamic that defines abuse. However, these qualities are not universally unwelcome in the classroom. Without a criminal complaint or a verified investigation, these qualities are not, on their own, grounds for firing. They do not negate Ellis's ability to teach, or even teach well.
"There's a landscape of affirmation that a lot of writing programs have turned into," said another poet, who has known Ellis for several years. (She's the one who had no negative experiences to contribute to VIDA.) "Everyone wants to get a pat on the back. But do you come to get a pat on the back or do you come to learn how to think? Thomas knows he's antagonistic, that his style is abrasive. He wants people to learn how to take up space in the room."
It's telling to me that this woman expressed serious concern that her honest, considered assessment of the situation would be seen as traitorous to feminism; she thought about withdrawing her point of view from the story, anonymous as it is. The VIDA stories, she said, mainly detailed regret. "Relationships don't always end up the way that they might, and people can get very upset and very hurt. And our greatest defense as writers is our pen, so we use it."
She said, "And of course, the claim that you don't feel safe is going to be valued no matter what. Even if there's no harm that's imminent. You can say, 'I feel threatened,' and you know what? Most people feel threatened by the black male body anyway. If society tells us anything, it's that."
I asked her if any of the accounts had surprised her or made her think differently about Ellis. "A man who's 50 and never been married? Who's attractive? No, it is no surprise to me that he's had sex before," she said. "He's troubled. He's manipulative. But if we take the accounts to be true, doesn't he need exactly what the victims are asking for? Privacy, healing, help. He deserves compassion the way the women do, too." She saw the VIDA post as "an eye for an eye. I felt like I was done poorly so I'm gonna do people poorly. But that's vengeance, that's not justice. You want something to change, you go the legal route."
"And I'm not discounting their claims," she said. "I'm not discounting Larkin's claims, either. I'm just reserving judgment for now. Because, the idea that the literary world is so narrow that a man like that holds the key? These men do not have as much power as we think they do. When you believe that they have power over you, you are reinforcing whatever power they do have. There's no one gatekeeper. The gates are open."
---
Only a month has elapsed since Larkin Grimm accused Thomas Sayers Ellis of harassment in public. Ellis is no longer a visiting professor at Iowa; he has not taught a single class after the VIDA post was published. He has been quietly moved out of his position, his students moved to other teachers and other seminars.
And so the VIDA post worked exactly as the women and the organization intended it to: It has started an overdue conversation; it has ensured these women were heard; it has taken Ellis out of favor. This means that the VIDA post has also, depending on your point of view, either proved or disproved its fundamental logic, which is that no one ever wants to listen to women's accusations without these tactics—that allowing these women to tell their stories of alleged abuse at the hands of Ellis without holding them to any standard of corroboration or contextualization was the only way that this conversation could be had.
Amy King of the VIDA board read me this statement over the phone:
Allegations have been circulating for some time now, for years, and given Ellis's prominence in the community, VIDA believes that the issues raised in the post are important to discuss. As noted in the post, it was written by a collective of writers and artists who wish to remain anonymous. We had no reason to doubt them. The culture and system as it stands now does not support women who come forward as individuals, and allowing women to post their stories together provides them that support. We at VIDA have historically given women a platform for their voices, and that's what we've been advocating for. We are an activist organization. We are advocating for women to be heard.
"Some of these posts may be by students," she told me. "Some of them detail personal relationships, like the last one, disrupting the idea that abusive relationships start out abusive—or that attackers are strangers, or people you've just met."
I asked King if VIDA considered trying to contextualize the stories that seemed like they may have been by students. Engaging in an undisclosed teacher-student relationship is in many places a rule violation; it is solidly actionable in a way that being a horrible partner is usually not.
"I'm not speaking to the truth of these testimonies," she said, after reminding me repeatedly that she was not engaged in writing or reporting. "What I'm speaking to is that we gave this collective of anonymous artists a platform to speak about issues that we find important to discuss."
What has struck me most, in reporting this, is the extent of the duress women have found ourselves under—which has already resulted in women associated with this VIDA post believing that we are fundamentally at odds. We agree on almost everything: that the legacy of bad men in creative fields is onerous and near-universal; that it's terrifying that whispers about an important and inappropriate man can circle for decades without anyone doing anything; that any man who repeatedly takes advantage of his power over women should be called to account.
We agree, even, that institutions have failed women so dramatically that we've reached this particular state of things—where a deeply flawed but pragmatically essential hierarchy of systems is beginning to be reversed. We believe that the police system fails women, that the courts fail women, that institutions fail women. But on the next step, we differ, and significantly. VIDA, and many of the women who spoke to VIDA, believe that this "guerrilla activism" is the only option; that asking women to present their stories in any other way than the way they've decided to—any other way than what makes them feel most comfortable—is infantilizing, and re-traumatizing, and asking too much, and wrong.
In reporting this piece, I've spoken to women who have withheld part or all of their story when they heard I was criticizing VIDA's methods. The opinion that VIDA's way is the only way to do it, in other words, is deeply and sincerely held. "The women at VIDA are heroes," said the poet who detailed her assault to me on the phone.
But as I see it, with the criminal justice system so stacked against women that Jian Ghomeshi's not guilty verdict was near-universally viewed as a symbol of exactly why women do not file official reports—with the jurisdiction of creative writing institutions being usually temporary and scattershot and often irresponsible—it is the press who holds the final line of responsibility. And this responsibility is getting complicated as journalism blurs with activism, which cannot deny the obligations of journalism and then ask to claim its weight. This is a method of "believing women" that will contribute to a wider disbelief of women. Forget journalistic standards, even—if we move towards establishing anonymous accusation as a moral gold standard, it will weaken our position in the end.
On March 18, 12 days after the VIDA post, the founders of the organization (none of whom sit on the organization's Board of Directors) quietly resigned over email. "None of us knew that VIDA intended to publish such a report," they wrote. "We were not consulted by the executive committee, nor were we alerted to its forthcoming publication by anyone from VIDA." They note that "women often feel unsafe reporting harassment, rape, inappropriate conduct," and "for good reason"—but that they are "deeply concerned by the notion of where internet 'call out' and 'take down' culture could easily lead." They say that anonymous accusation has "enormous and disturbing implications" for "any ethical, thinking person." (It suggests, again, the changes in this conversation that the accusations against Ellis were made publicly, while the founders' editorial denunciation was not.)
Though I'm not sure everything in the VIDA post is measurably of public interest—asking to be called "daddy" in bed is not the same as sexual assault, and it should be a feminist priority to keep the two things separate on the spectrum, rather than collapse them—I wouldn't call it "call-out culture" either. It was motivated by pain, and panic, and what felt like last resort. As Kat Stoeffel said in response to the "alt-lit" accusations in 2014, these women wanted to warn other women; they wanted to be heard. But they are also calling for and eliciting an institutional reaction, in this case. And the responses to the founders' statement have been telling. One woman tweeted, not only affirming the link between VIDA's post and "call-out culture" but defending the latter's validity: "You can only get mad about anonymous call-out culture if you know you're wrong."
That is untrue. When the goals are crucial, the execution is even more so. We finally have people listening; we are finally in front of a set of wider cultural values that make it possible to end the era of the important, inappropriate literary man. And it's not fair in a larger sense that women bear the procedural responsibility I'm asking for. It's horrifically unfair that so much more is asked of victims than rapists, who, as one blogger pointed out, get to be "anonymous guerrillas" no matter what.
But there is no righting that wrong through blurred methods, through asking informal testimony to bear an institutional burden. There is too much at stake here for a woman who comes forward to be put in the position where anyone could say—as people tend to, and as we continue to make possible, through a scrim of good intentions—that it's not quite clear what she's talking about.
Illustration by Jim Cooke