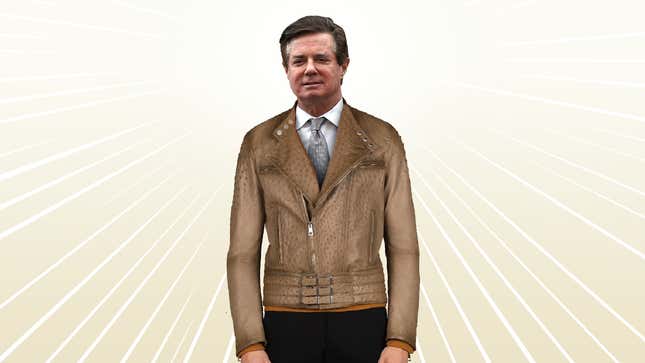 The trial of Paul Manafort began on Tuesday with prosecutors arguing that the former Trump campaign chairman—who is currently facing a litany of charges related to tax evasion, bank fraud, and money laundering—lived an "extravagant lifestyle" subsidized with money he brought in through his lobbying in Ukraine.

Such extravagance entailed the purchase of multiple homes, a $20,000 watch, and a $15,000 coat "made from an ostrich," according to prosecutors.
What does a coat that is made of ostrich skin and costs just a hair below what a full-time worker earning the federal minimum wage makes in a year look like?
Like shit, in my opinion.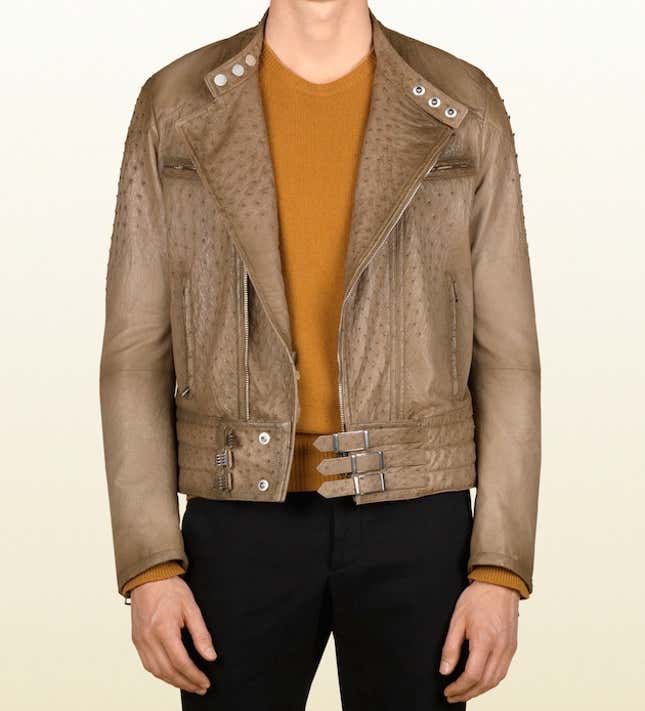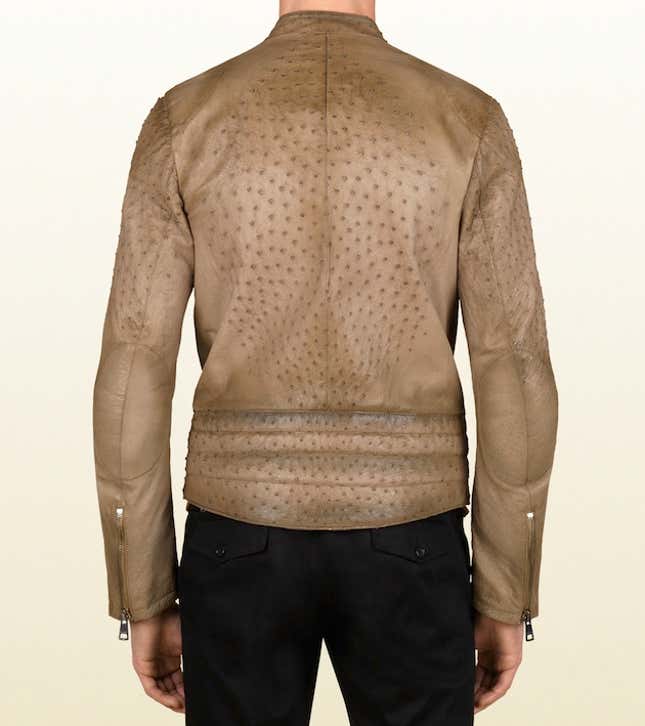 Some rudimentary Googling (and unsuccessful calls to both the Gucci flagship store and its corporate headquarters) lead me to believe that the coat in question is Gucci's Ostrich Leather Biker Jacket, which retailed for a reported $14,500 in 2012. Add in taxes, or assume that the prosecutors opted to round up as a dramatic flourish in their opening statement, and it seems as though we have a contender.

Other ostrich jackets I found skewed comparatively low-end ($500), while others exceeded the $15,000 price tag considerably ($25,000). That leaves us with Gucci's Ostrich Leather Biker Jacket.
While Gucci could not confirm the retail value, the jacket's reported value was archived by a website called UpscaleHype, which describes itself as an "online magazine focusing on the hype that surrounds celebrity fashion and the high-end lifestyle."
Now does this square with what we know about Paul Manafort?
High-end lifestyle? Check. "Made from an ostrich?" Check. Aesthetic compatibility with an aging man drawn to Business Dirtbag and I'm Definitely Trying to Fuck the Babysitter-type styles? Check.
While unsuccessfully searching out the jacket through Gucci, a very kind woman working the brand's customer service line informed me that while she could not locate the item on its website, there was a chance that it was at one of Gucci's outlet stores "and most likely marked down."
Happy shopping!
Update (8/2/18, 8:41 a.m.): The coat has been identified! My theory was wrong, but it's about the journey and the friends we made along the way.