Truth in Advertising Inc. has threatened to report America's royal family to the Federal Trade Commission (FTC) for eschewing federal labeling regulations in promotional social media posts.
The Kardashian-Jenner clan has made a second home on social media, where they're frequently boasting new bits and pieces of finery. But the organization Truth in Advertising Inc. suspects that members of the family are being paid for a number of these posts — they're simply not disclosing it.
With the mission of "empowering consumers to protect themselves and one another against deceptive marketing," Truth in Advertising, Inc. scrutinized Kardashian/Jenner Instagram accounts and deduced that the family has obscured profitable relationships to a number of companies. After reviewing the accounts of Kim, Khloé, and Kourtney Kardashian and their sisters Kylie and Kendall Jenner, the organization noted that "a plethora of posts do not clearly or conspicuously disclose their relationships with the companies being promoted in the posts as is required by federal law."
According to The Fashion Law, the Connecticut-based organization has sent a letter to matriarch Kris Jenner and the Kardashian-Jenner family lawyers accusing them of deceptive marketing. Among the 27 companies they list are Puma, Calvin Klein, Karl Lagerfield, and Estée Lauder — and The Fashion Law corroborates these findings.
G/O Media may get a commission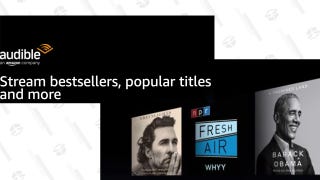 FREE
Audible Premium Plus 3-Month Free Trial
However, while Truth in Advertising, Inc. sent a "legal letter" to the family, they do not have the power to take legal action against them. Only the FTC has the authority to do that via the Federal Trade Commission Act. What the organization can do is report the Kardashian-Jenner family to the FTC. And indeed, they have threatened to do so by August 24, 2016 if the illegal posts are not removed.
But The Fashion Law makes the important point: removing old Instagram photos will not have a meaningful impact, because they generally receive the most views immediately after posting. With time, the rate and number of views drastically decrease. What's more, the offending family members have likely already been paid for these under-the-table endorsements.
The FTC could demand that the sisters hand over the profits from these posts. Lobbying for this punitive measure, The Fashion Law argues, would be the most effective route.
It remains to be seen how Truth in Advertising, Inc. will pursue this case and whether the FTC will involve itself.