Well, well, well. Exactly one week following the premiere of her video for "Style," which featured at least eleven separate images of a broken mirror, the New York Post reported that Taylor Swift was present on the scene of a high-profile mirror "accident."
During the morning rush today at upscale SoHo eatery Balthazar, a giant mirror toppled over onto a table full of customers. The Post originally reported several injuries, including "a former French minister of finance," but the FDNY has confirmed that only one customer was taken to the hospital with injuries "that did not appear life-threatening." Less than an hour after its original article ran, the Post was updated to note: "Earlier reports that Taylor Swift was at Balthazar proved incorrect." Or were they?
NBC News has reported that "It's not clear what caused the mirror, which had been hanging on a wall, to fall." On the contrary, NBC. It is clear as day.
Let's connect the dots here. First of all, it's pretty obvious to everyone who watched the music video that Taylor Swift was struck by lightening on the set of "Style."
G/O Media may get a commission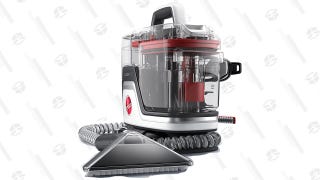 Save $10
Hoover CleanSlate Plus Carpet & Upholstery Cleaner
But she didn't make a big deal out of it because she suddenly had all these powers...
Mostly just, like, the ability to move mirrors with her mind and a newly-intensified lust for blood.
Over the past week, she's been holed up in her NYC loft, struggling to control these urges.
But finally she was like, whatever!!! I'm going to do me. Let's go to brunch and FUCK SHIT UP.
And we all know what happened next.
Taylor was pretty sure no one saw her, because she was huddled in the wine cellar the whole time, foaming at the mouth, so she was like, New York Post, if you don't take it back R fuckin' N that I was at Balthazar...
...Then you're next, buddy.
But hey, that's just my take!