SZA recently spoke to GQ about her controversial Grammy loss and in between explaining that she was "mad as hell" about it and moving forward, she drops this one interesting quote about her "inklings."
In the Q&A conducted by Mariah Smith, SZA says that she thinks if she had written a speech ahead of time, which she did not, she might have actually won:
Did you write any speeches?

I did not! I have a weird theory that had I written a speech, things would have went differently.

Are you serious?
Yeah, but I think things were supposed to go the way they went. I did have a weird inkling to write a speech several times, and usually my inklings are popping! I'm learning myself and learning how to listen to myself. I didn't make my album with the Grammys in mind, and I'm definitely not gonna make my second one with the Grammys in mind. I'm just gonna make really good fucking music and just try to touch people.
Her inklings are usually popping? I'm dying to know more. Does this mean SZA is a little psychic?
SZA has spoken before about how she's dabbled in more New Age-y extracurricular activities. She told Vogue that she already felt a vibe in her life that her job was to empower women, but after a psychic in LA confirmed it she then felt like she had a responsibility to do so. But then she's also said before that you can't control the future: "I'm just happy to be present. It's weird. If you try to control a future moment, it's impossible."
G/O Media may get a commission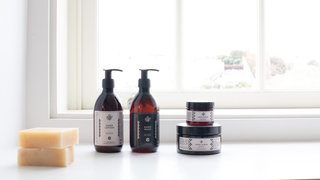 Exfoliate and Hydrate
The Handmade Soap Company
That's exactly what someone with the ability to see the future would say, to trick you into thinking they aren't psychic!
Elsewhere, she talks about how she didn't really pay attention to the uproar over her loss to Alessia Cara (viewers were so mad that Cara won for Best New Artist that she had to publicly defend her win.)
"I just didn't know how to take it. I didn't say anything, I didn't post, because I've never had to deal with anything I really believed in wholeheartedly, or invested in, and went through something that publicly before," SZA says. "I wanted to be honest as fuck, and if today I'm just mad as hell, I don't want to say something that reflects me being mad as hell. But I definitely feel blessed now."