Jessica Chastain and Meryl Streep have both responded to Mystery, Alaska actor Russell Crowe's recent comments regarding actresses refusing to act their age in Hollywood. But here's the shock of all shocks—while Chastain, who's been vocal about the limited film roles available to actresses over 40, was all "Shut your dumb pie hole, Russell Crowe," Meryl actually agreed with him.
To recap, here's Crowe's original quote from Woman's Weekly (via US Weekly):
The best thing about the industry I'm in – movies – is that there are roles for people in all different stages of life," Russell says, in an interview with The Weekly. "To be honest, I think you'll find that the woman who is saying that (the roles have dried up) is the woman who at 40, 45, 48, still wants to play the ingénue, and can't understand why she's not being cast as the 21 year old...Meryl Streep will give you 10,000 examples and arguments as to why that's bullshit, so will Helen Mirren, or whoever it happens to be. If you are willing to live in your own skin, you can work as an actor. If you are trying to pretend that you're still the young buck when you're my age, it just doesn't work."
Chastain (who's certainly not stuck to ingénue) roles, responded to Crowe's remarks in Cosmopolitan, saying:
"I think Russell keeps getting his foot stuck in his mouth. There are some incredible actresses in their 50s and 60s that are not getting opportunities in films, and for someone to say there are plenty of roles for women that age ... [that] is not someone who's going to the movie theater."
G/O Media may get a commission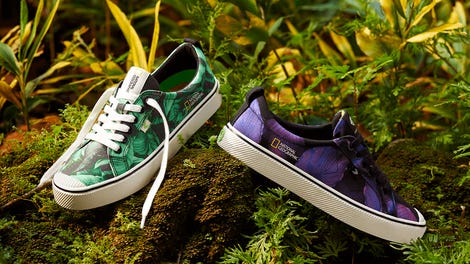 New New New
Cariuma + National Geographic
Then Meryl, one of maybe five actresses over 50 who does get regular work, weighed in in the Telegraph:
"I agree with [Russell]. It's good to live in the place where you are."
Chastain and Streep are clearly responding to different things. The former is addressing the lack of complex and mature roles for women in Hollywood and the latter is commenting on Crowe's specific (and, frankly, simplistic) complaint that women resist acting their age.
Ask Meryl about the roles she was offered immediately after turning 40 and she'll tell you this:
When she turned 40, Streep was appalled to be offered three separate roles as witches, and turned all of them down.
Point being (as always): Fuck Russell Crowe.
[ E! Online]
---
In a recent interview with E! News, Jennifer Aniston revealed that she has a "real fear" of going under water that stems from a childhood accident. "I was a kid and I was riding this tricycle around a swimming pool and I drove my tricycle into the swimming pool and I didn't let go and my brother tried to [help me]," she explained. And that's why, every year under the full moon of the Golden Globes, you'll see the ghost of Jennifer Aniston on the red carpet, wandering around in the same beige tube dress that she wore that fateful day. [Page Six]
---
This is what happens when you try to surreptitiously snap a pic of Emma Stone and Andrew Garfield at a restaurant. [Imgur]
---
Photos via Getty, Instagram.