Matt Damon just can't keep his mouth shut lately. The actor, who usually makes headlines because of his ability to stay out of them, has spent the last few weeks making up for lost time. Since mid-September, he's said one outrageous thing after another—complete with half-formed apologies—all in advance of what promises to be one of the biggest movies of his career, Ridley Scott's The Martian.
Damon began wilding about FourFiveSeconds after acclaimed black filmmaker Effie Brown started speaking about diversity on the season 4 premiere of Project Greenlight. "When we're talking about diversity you do it in the casting of the film not in the casting of the show," he told a shell-shocked Brown after interrupting her.

"Oooof. Wow. OK," she responded.
You saw this. A lot of people saw this. And when Matt Damon saw this, he released a statement in which he sort-of apologized for his remarks, but mostly just apologized for bad editing:
"My comments were part of a much broader conversation about diversity in Hollywood and the fundamental nature of 'Project Greenlight' which did not make the show. I am sorry that they offended some people, but, at the very least, I am happy that they started a conversation about diversity in Hollywood. That is an ongoing conversation that we all should be having."
Perhaps someone more experienced in dealing with deserved outrage would have given the public a better apology, but Damon was new at this. So maybe he deserved the benefit of the doubt. Maybe this was a one-time thing.
Or maybe not. In an interview with The Guardian less than two weeks later, Damon decided to give his thoughts about being out in Hollywood.
G/O Media may get a commission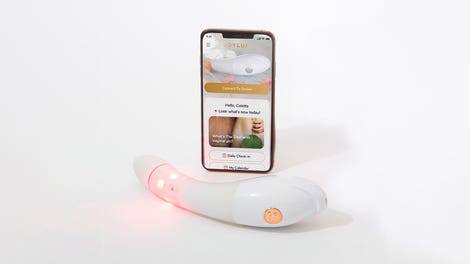 $50 Off
Joylux vFit Gold Device
He said:
"In terms of actors, I think you're a better actor the less people know about you period. And sexuality is a huge part of that. Whether you're straight or gay, people shouldn't know anything about your sexuality because that's one of the mysteries that you should be able to play."
Plenty of people defended him for these statements, but those people probably didn't realize how luxurious it is to be a straight man in a society conditioned to make all the right assumptions about your sexuality. It's easy to tell others not to come out when coming out has not and will never be an issue for you to confront.
Wrote Dan D'Addario in Time:
The criticism of Damon's comments on actors hiding their sexuality wasn't that it was monstrous; it was simply the observation that a straight actor can "keep his private life private" while walking red carpets with his spouse, which a gay actor simply cannot. There are people out there who know more about the experiences of gay people than does Damon, and when they reacted to Damon's comments, he simply kept talking over them, louder.
So yeah, it was time for another bad apology. While appearing as a guest on Ellen on Monday, Damon said:
"I was just trying to say actors are more effective when they're a mystery. Right? And somebody picked it up and said I said gay actors should get back in the closet. Which is like I mean it's stupid, but it is painful when things get said that you don't believe... In the blogosphere there's no real penalty for just taking the ball and running with it. You know what I mean? You're just trying to click on your thing. So."
Ellen responded by saying "I know you, and I know you're not that guy," and made a joke about Matt secretly being gay. She gave him a pass for his ignorant comments, probably because she—like all of us—isn't used to this version of him. Interviews with Matt Damon aren't supposed to be serious or newsworthy, they're meant to be pleasant and forgettable—like We Bought a Zoo.

After his Ellen appearance, Damon decided to run his mouth about something else entirely: his best friend, Ben Affleck. In an interview with The Hollywood Reporter, he discussed what it was like to know Affleck while he was half of Bennifer 1.0:
"It was like he was being cast in a role, that he was a talentless kind of meathead, with his whole relationship with Jennifer Lopez. He just got cast as this person that he wasn't. It was just really painful. It was painful to be his friend, because it wasn't fair, you know? To my mind, nobody really got him at all."
As my coworker Madeleine wrote of his out of the blue comments yesterday, "Timely and relevant!" But what's particularly odd about those remarks is that he began that interview with a recognition of his original Project Greenlight mistake that, though not quite an apology, was the best response he's given so far:
"There was some context taken out," he insists. Although he saw a near-final cut, he did not see a later, trimmed version. When he did, "I went, 'Oh my God, I look like an asshole.' I thought it was a really insensitive thing to say."
Fully aware of his asshole-ish behavior, Damon is now attempting make amends. On The Late Late Show With James Corden, he filmed an 8-minute "Role Call"—a recurring sketch in which actors quickly perform snippets from their entire filmography alongside Corden. It's not a particularly funny bit, but works as a nice showcase for his effortless charm.

This is the Matt Damon people liked a month ago:
But something is undeniably different now. There's an asterisk over his charm - one he's spent over 20 years avoiding. And though, as mentioned in Time, none of his comments were particularly "monstrous" or career-ending, they were bad - and worthy of apologies he still hasn't given. That's a new one for him. In responding to what is essentially his First Fuck Up, Damon and his press team appear to have been so overwhelmed by the backlash that they simply didn't know how to fix it.
Like all stories about celebrities who say the wrong things, we'll stop talking about this soon—especially with a movie as well-received as The Martian to distract us. And though he's probably been told to shut up and let this pass, someone will probably publish a story during the Bourne 7 promotional cycle that mentions his controversial statements from September of 2015. "Remember when Matt Damon said this?" it will ask.
I just hope he remembers to keep his mouth shut until then.
---
Contact the author at bobby@jezebel.com.
Image via Getty.