"On my way to the hospital with a girl whose tongue was bitten off when she was raped." Did that tweet get your attention? That was the point.
But do they make you want to learn more about the story, or is this social media sensationalism at the expense of appropriate context, the victim's safety and her privacy?
Everyone's a critic in the digital mosh pit. But the venerable and politically earnest magazine Mother Jones was accused last week of "retweeting rape."
So what really happened? And is a "rape feed" something we shouldn't do, just because it hasn't been done before?
Mother Jones reporter Mac McClelland, currently in Haiti, decided to live-tweet her day spent with a Haitian rape victim trying to get medical care. The power and immediacy of the real-time, staccato exposition, punctuated with emotion - "Doctor is demanding that I say I understand [K.] was asking for what happened to her. Holy F..k."- was unpleasantly jarring for some followers used to the magazine's typically lengthy, contextual articles. The topic itself also turned some tweeters off; sexual violence is a a touchy subject and not something normally served up in the midst of the cultural peep shows of high-ranked search engine stars like Justin Bieber and Ashton Kutcher.
G/O Media may get a commission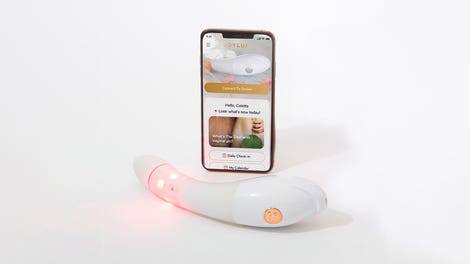 $50 Off
Joylux vFit Gold Device
"Stuck in traffic on the way back to camp," McClelland tweeted. "[The rape victim] starts *screaming* when tall dude in blue strolls past us. That's one of the rapists."
How could that not send a chill up your spine? Or the actual doctor's visit: "Holy f....ing s...t this dr just told [K.] it's her fault she got raped bc she's a slut and smokes pot." "I haven't said a WORD, but am now also being lectured on how bad girls get what's coming to them."
In the end, "Dropped a rocking, crying [K.} back off at a camp flanked by police station, national palace, ministry for women. Rape central."
Hardly the New York Times doing neutral reporting on a Washington committee hearing. These tweets have what we now call "personality," "attitude" and "voice," meaning they're personalized and help establish the reporter as her own "brand."
In fact, McClelland developed a decent following from her coverage of the BP disaster in the Gulf thanks in part to her Twitter personality. "She has a very voicey voice," says Mother Jones editor Clara Jeffery. Even though McClelland is a trusted MJ reporter, her tweets are "raw and unfiltered." Her online persona seems even stronger in Haiti. After all, who's neutral on rape?
Jeffery says live-tweeting about issues like rape is a "new form," and that Mother Jones is "experimenting." But no good experiment goes unpunished.
"Survivors dignity, journalistic ethos, doctor-patient confidentiality - all offered up on the altar of sensationalism/Haiti rape feed" tweeted an apparently angry ShoesfromthHood. Penelopeinparis thought that "Revealing the identity of rape survivors...on Twitter seems inappropriate."
Jeffery quickly joined the debate with plenty of her own attitude. "If you'd rather not hear about rape in Haiti, I have a solution for you: unfollow me." "Why haven't you been reading about rape in Haiti in MSM?..I disagree tweets cheapens, punch to gut to wake people up.." "You're questioning [K.'s] right to ask that the story be told?"
A little testy, sure. But Jeffery understood that Mother Jones was treading on unfamiliar ground. She told me she'd texted McClelland to "step back and make sure people know you have [K.'s] permission" to use her name.
"When something is interesting in real time," Jeffery says, "Twitter is a good way to present it." Mother Jones will do a longer story on K., but McClelland's impressions and observations are "sketching out your future [story] while you're on the ground." But exactly how sketchy is that street-level view?
Jeffery believes "It's not that different than someone doing live radio or TV at a disaster, reacting to what's going on." Like Edward R. Murrow from the rooftops of London during WWII bombing? "We're not claiming we're Edward R. Murrow but it does unfold in real time, the way it used to do. The emphasis is on the immediacy."
For a lot of of journalists, technology is still like spinach. Sure, it's good for us and our future health but wolfing it down with enthusiasm can be a struggle. That's a shame. The personality and speed that good tweeters bring to a story - breaking or otherwise - is a tool we should all be using more often.
But that doesn't mean we dive in without looking both ways. One point raised obliquely in last week's debate that hasn't changed over time for journalists: our actions have consequences. Never mind all that unbiased-observer-of-the-first-draft-of-history crap. Like time travelers treading in the past, our involvement in a story can change things forever; it doesn't matter whether it's 15,000 words or 15.
Twenty years ago, I was covering the highly flammable terrain in El Salvador's fratricidal political war. I found out about a young woman from a leftist union organization, FENASTRES, who'd been raped in a San Salvador jail. Sexual assault was then, as now, a common weapon and experience in countries at war. What was really rare in this case, though, was that somehow a doctor had seen her and actually filed a written report of physical evidence in the rape. That killed official deniability.
I went to the prison on visiting day and interviewed the victim. She was sitting on a stone bench dressed in a long-sleeved black-and-white striped jersey and black jeans. Her mother huddled next to her, holding her hand. I wrote a story that included the official doctor's report. The woman was released two days later.
A week after, I heard a huge explosion coming from downtown. I was there in minutes. FENASTRES headquarters had been shredded by a powerful bomb placed in the doorway. The ruined building was filled with bodies and body parts, people ripped open, exposing their anatomies in ways never meant to be seen outside of medical books and coroners' labs.
There, in one corner, seated in the rubble, I recognized the young woman from the jail, wearing the same long-sleeved, striped short and jeans. Her head was missing. (It's a gruesome fact that in a large explosion, the skull - structurally one of the weakest parts of the body - often goes first.)
A few weeks after that bombing, Salvador's joint guerrilla groups launched a huge offensive into the heart of the capital, which lasted for weeks. Insurgent leaders cited the FENASTRES bombing as a precipitating event. The force of the assault convinced all parties to press for the peace that exists today in Salvador.
But the young lady in the striped shirt did not live to see it.
If I hadn't written about her rape would she have been relatively safe in jail and not torn apart by TNT? Did I somehow contribute to her death?
These are questions and debates that journalists have with themselves, their editors, and - these days - their readers. They are part of credible and responsible journalism and should never be outdated by technology.
Our responsibility in these things "is an interesting question," Jeffery says. In the Haiti case, K.'s tale had already gotten local press. Jeffery feels that Mother Jones' reporting, followups, and soliciting of donations for certain aid organizations fulfills the magazine's obligation to be responsible.
Clara Jeffery and Mac McClelland were right to use the force of instant narrative to tell K.'s story. And, frankly to tell it to an audience that extends far beyond Mother Jones' subscription base.
My conversation with Jeffery about the whole thing made it clear to me that she put the right amount of thought into the mix of a revelatory and still unfolding medium. Note: Many of McClelland's original tweets display K.'s full first name. However, The Institute for Justice and Democracy in Haiti (the NGO McClelland is working with) retroactively asked that K.'s full name be redacted. In the interest of K.'s safely, we have also complied.
This post originally appeared on the San Francisco Chronicle's Bronstein at Large blog. Republished with permission. The image depicts Haitian women protesting discrimination against rape victims. The victim mentioned in the post is not pictured.
Want to see your work here? Email us!